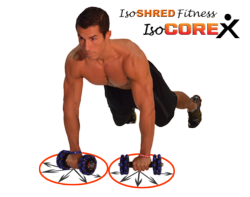 My clients can't cheat on form, it forces them to use their muscles more efficiently.
Seattle, WA (PRWEB) February 13, 2013
When working out at the local gym the selection of equipment for strength training is endless. It seems there is a piece of equipment for every muscle group. IsoSHRED Fitness has introduced a new piece of equipment that has been described as a game changer in functional fitness. IsoCoreX is one piece of equipment for your entire upper body.
The trend in fitness over the last few years has been to provide a functional aspect to strength training. For the most part this is done by using balance or stability exercises, kettle bells, and other types of exercises that require multiple muscle groups simultaneously. These types of exercises provide users with a more practical workout. Instead of isolating a specific muscle group in a single direction functional fitness exercises challenge multiple muscles from different directions the way they would be in a real world situation.
Functional strength training offers many benefits over traditional strength training. Strength training for real world situations prepares the body to better handle day to day tasks. More muscles are better conditioned to handle unbalanced loads when carrying heavy objects. Increased balance and coordination reduces the likelihood of a fall. These seemingly small aspects of life are huge for preventing injuries. If muscles are strong only in one direction the risk of injury increases when the need to use those other unconditioned muscles occurs. This is where IsoCoreX from IsoSHRED Fitness excels.
Instead of challenging one muscle group in one direction, IsoCoreX challenges multiple muscle groups from all directions. Results from this simple compact piece of equipment are promising. After just a few short workouts with IsoCoreX users are reporting the effects of stimulating muscles they usually never target simultaneously. They report feeling stronger and more functional, their muscles are better coordinated and function together better. One user reported never previously being able to do a pull up and after using IsoCoreX is now able. A personal trainer reported his clients using more proper form while doing push ups. "My clients can't cheat on form, it forces them to use their muscles more efficiently", Austin Ferguson, Fitness Trainer Gold's Gym.
One local gym owner and his clients are experiencing similar results in a group fitness class with IsoSHRED's IsoCoreX. Intended to help users learn how to use the new IsoCoreX, John Phillips of Phillips Tae Kwon Do in Maple Valley, WA started an IsoCoreX group fitness class. "First I taught everyone how to coordinate their muscles to work together with asymmetric loads to gradually build strength and control the motion. After about 3 workouts they were feeling better, feeling stronger and they were hooked." John Phillips.
IsoCoreX challenges the user's muscles to stabilize from all directions. It moves in any direction which also helps to target specific muscle groups in the upper body. During every rep. of every exercise multiple muscle groups are working together simultaneously. Another benefit to exercising more muscles simultaneously is a drastic reduction in time spent exercising and burning more calories faster. "It truly is fast and effective; there is no need for a 1 hour workout. In a 45min class I burn about 750 calories", Master John Phillips- Personal trainer and Tae Kwon Do Black Belt.
IsoSHRED Fitness was established in Lake Stevens, WA in April 2011. With these types of results and plans to expand in group fitness, home fitness, and professional strength training expect to see IsoSHRED Fitness emerge as a new global fitness leader. "There have been no major improvements to products of this type over the last 40years. IsoCoreX utilizes the most practical, easy, and fun to use design of this type of product ever created." Michael Reid Founder of IsoSHRED and Inventor of IsoCoreX. Learn more about IsoSHRED and IsoCoreX at http://www.isoshred,com.