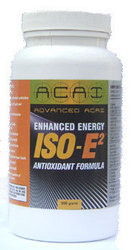 The recent economic downturn has re-introduced us to the meaning of 'value,'
Saratoga, NY (PRWEB) October 6, 2009
Formulated by food scientists to nourish and support energy and immune function as well as to fortify against effects of stress, ISO-E2 is an isotonic-capable dietary supplement for daily use that features the wholesome nutrients from Acai berries, guarana, yerba maté, mangosteen, pomegranate, green tea and essential amino acids.
"Saratoga Supplements believes in wholesome nutrition for the modern age, and our researchers have formulated ISO-E2 to additionally have long-term benefits of cognitive support (focus, memory and energy), as well as cardiovascular health," describes Pat Baker, founder and CEO of Saratoga Supplements. "Further, the formulation's potent antioxidant composition supports the integrity of cellular structure and function, essentially keeping cells healthy and functioning during their life cycles. This is the basis of vitality and helps further distinguish ISO-E2 from other daily wellness formulas on the market."
"Isotonic" refers simply to the solution that carries and protects the nutrients through to the point of maximum dispersion and thus, absorption. This means that the body has less work to do to obtain maximum absorption. The isotonic state of the suspension allows nutrients to pass directly into the small intestine and be rapidly absorbed into the bloodstream. With the Isotonic products, little nutritive value is lost, making the absorption of nutrients highly efficient while delivering maximum results.
Baker adds that this is a powerful attribute: you get what you pay for and you get what the label claims it delivers. "The recent economic downturn has re-introduced us to the meaning of 'value,'" he asserts. "With ISO-E2's isotonic delivery, we believe we give our customers the highest value of nutritional support for their monetary investment in their health and well-being."
Consumers may buy ISO-E2 directly from the secure web-community Saratoga Supplements.
###