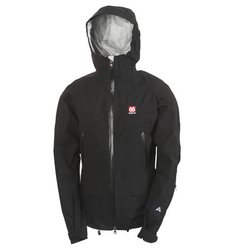 I am of course deeply touched and honoured that this product has been recognised in such a forum. I am grateful for the jury's choice, and it inspires me to evolve and set higher goals
(PRWEB) February 14, 2011
Ispo, one of the biggest international trade fairs for sporting and outdoor goods, is now in full swing in München Germany. Ispo annually honours the most innovative products for the outdoor sector with ispo Outdoor Awards. The best new products for the next season are honoured with this award.
All the brands that take part in ispo may submit items for consideration, meaning that only the best of the best compete for the award. The jury was very excited about the quality of the products submitted to this year's ispo Outdoor Award, even though it made the jurors' decisions so much harder.
The Ispo Outdoor Awards are presented in three categories: hard goods, soft goods and accessories. The Snaefell Jacket from 66°NORTH is this year's soft goods ispo Outdoor Award winner. This is a remarkable achievement by 66°NORTH in the year in which the company celebrates its 85th anniversary. The extremely ergonomic cut of both the ladies' and men's jackets impressed the jury, which said in its statement: "The Snaefell Jacket by 66° NORTH, made of bi-elastic, lightweight Polartec® NeoShell®, is a jacket for even the most demanding customers. Highlights include preformed elbows as well as seamless shoulders, ensuring optimum range of motion. Thanks to the Polartec® NeoShell®, the jacket is waterproof and breathable. Due to the high-tech Polartec® NeoShell® material, the Snaefell Jacket offers extraordinary function for many different applications. Perfect finish and clever detail solutions round out the high-quality overall concept, suitable for a broad target group of outdoor athletes."
Chief Designer Jan Davidsson and Sigurjon Sighvatsson, owner of 66°NORTH, received the ispo Outdoor Award last Saturday. After accepting the award, Jan said: "I am of course deeply touched and honoured that this product has been recognised in such a forum. I am grateful for the jury's choice, and it inspires me to evolve and set higher goals".
About Snaefell Jacket - Polartec® NeoShell®
Jacket designed for optimum performance. Great breathability with no moisture build-up inside. Integrated dual adjustable swivel hood that follows movements and won´t block peripheral vision. Visor on hood for additional comfort and protection and drawstring for adjustment. Venting through pockets, preshaped elbow articulation and elongated back. Handy card pocket towards front of left sleeve, one zipped inside pocket for small keeps and drawstring in hem.
Polartec® NeoShell® features a new hydrophobic, micro porous, polyurethane membrane with a tightly controlled range of pore sizes. It has the durability and stretch of a polyurethane film plus the breathability of a micro porous structure. This unique construction allows positive air exchange to drive moisture vapour release while remaining completely waterproof (10.000 mm). It does all this at a fraction of the weight of current membrane technologies, so a garment made of Polartec® NeoShell® is lighter, softer and more supple than the competition. Both lab and field tests indicate this fabric will be a "game changer" for performance outerwear.
About 66°NORTH
66°NORTH - Sjoklaedagerdin Ltd. is one of Iceland's oldest manufacturing companies For decades it has been a market leader in the production of seaman's and work clothes. Over the past ten years, 66°NORTHhas grown extensively and is considered an expert in the production of a wide selection of outdoor clothing. This expertise has been rewarded with numerous awards for its designs and marketing campaigns.
Today, 66°NORTH - Sjoklaedagerdin has more than 300 employees and runs 10 shops in Iceland under the brands 66°NORTH and Rammagerdin. The company's website is http://www.66north.com/
# # #