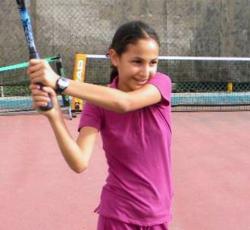 It's all about helping the children regardless of their ethnicity or background.
New York City, New York (PRWEB) May 16, 2012
Alan Goldner, President of the Israel Tennis Centers Foundation, announced along with Jacqueline Glodstein, the Vice President for Global Development, an initiative to raise additional resources to expand its programs for Bedouin children as a result of the ITC's impact on a young, 14 year old Bedouin girl.
From a small rural Bedouin village, Barra was able to convince her parents to leave her village and drive thirty minutes each way, five days a week to play tennis with Israelis, a very unusual situation for the Bedouin community. After her family ran into financial difficulties, Barra wrote a letter requesting additional support from the ITC to continue pursuing her dreams at the Yokneam Tennis Center. For the Foundation it will be the second time working to find a solution for this young Muslim Arab girl, who wants to continue playing tennis and be with her Jewish friends, as much as she wants to pursue her dreams of being a professional player.
Barra has been playing tennis since she was six years old at the Israel Tennis Centers Yokneam facility in the Lower Galilee. By the time Barra was twelve years old she was the third ranked player in Israel for her age group. She wrote, "I want to come back and be with my friends whom I miss as much as the tennis."
During this period, the ITC also received support for Barra from the Freddie Krivine Foundaton, an organization started in the memory of Sir Freddie Krivine, one of the six original Founders of the ITC.
Dr. William H. Lippy from Warren, Ohio and one of the original Founders of the Tennis Centers has met Barra several times and knows how dedicated a player she is and how important tennis has become in her young life. Dr. Lippy noted that "we are so grateful that we have a young Bedouin player enriching all of our lives and serving as a reminder that there is so much we can all do when it comes to improving children's quality of life through the vehicle of tennis. Barra would like to continue with our program mostly to be with her friends. We all have a responsibility to support more Barras and continue the important work of building bridges between the Bedouin and Israeli communities. It all starts with the shared experiences of children and our ability to nurture those relationships through our co-existence programs. I really believe we will find the resources to expand the number of Bedouin children in our programs."
The Israel Tennis Centers Foundation (ITC) is a 501 (c) 3 non profit organization that has worked for over 35 years to enhance the social, psychological, and physical development of Israeli youth through the medium of sport. Most of ITC Centers are located in disadvantaged neighborhoods or outlying development towns throughout Israel, from Kiryat Shmona on the Lebanese border in the North to Beer Sheva bordering the Negev Desert in the South.
Contact: David W. Lippy
DLippy at Insight.rr.com