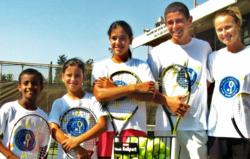 We have children whose parents come from the Soviet Union, France, Ethopia and Uzbekistan
New York City, NY (PRWEB) July 31, 2012
Alan Goldner, President of the Israel Tennis Centers Foundation, announced along with Jacqueline Glodstein, the Vice President for Global Development, the August tennis exhibition schedule for the United States. The tour includes stops in Youngstown, Ohio, on the 19th of August followed by Pittsburgh, Pennsylvania, Stockbridge Massachusetts, South Hampton, New York and winds up in Westport, Connecticut concluding the tennis exhibition series on the 26th of August.
Nadine Fahoum, a 2012 graduate from Duke University, where she played first singles for the third ranked Blue Devils women's tennis team and who recently joined the Israel Tennis Center Foundation (ITC) as a full time Associate Development Director will be traveling with the team. Miss Fahoum is very excited about the composition of the team coming from Israel to participate in fund raising tennis exhibitions. She commented that, "the ITC players on our fundraising tour have diverse backgrounds. Their parents immigrated to Israel from the Soviet Union, France, Ethiopia and Uzbekistan."
Ira Berkow a Pulitzer Prize winning author and retired sports writer for the New York Times will be attending the Westport event on the 25th of August and participate in the exhibition. He most recently wrote a documentary film in 2010 entitled, Jews and Baseball.
Money raised from the Pittsburgh tennis exhibition in Squirrel Hill on the 20th of August will benefit the children in the Karmiel-Misgav region of Israel. Located in the Galilee, the Sajur Israel Tennis Center has become a flagship program for co-existence. Surrounded by Cirassian, Druze, Christian-Arab and Muslim-Arab villages as well as Jewish towns and the large city of Karmiel, the Center serves as a meeting ground for the different religious and ethnic communities in the area. Proceeds from this event will provide a Dream Bus for the children of Karmiel and the disadvantaged Druze children of the region by providing transportation to the ITC Sajur. Here they will participate in co-existence programs designed to nurture intercultural acceptance. Friendships will be created along with increased social awareness among Jewish, Druze and Arab Israeli children while teaching them life skills through tennis and keeping them in a safe environment after school. In this Olympic year, the Israel Tennis Centers remind the world that sports are universal and champions can be found on and off the court.
The Israel Tennis Centers Foundation (ITC) is a 501 (c) 3 non profit organization that has worked for over 35 years to enhance the social, psychological, and physical development of Israeli youth through the medium of sport. Most of ITC Centers are located in disadvantaged neighborhoods or outlying development towns throughout Israel, from Kiryat Shmona on the Lebanese border in the North to Beer Sheva bordering the Negev Desert in the South.
Contact:
David W. Lippy (614) 939-1533 or cell (614) 554-9235
DLippy(at)insight(dot)rr(dot)com