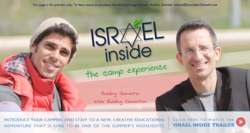 This program is geared for students of the 21st Century," Dr. Ben-Shahar explained. "It is 'Israel education for the YouTube Generation.
New York, NY (PRWEB) June 27, 2013
1,600 Jewish Agency and privately-hired Israeli camp counselors have received Jerusalem U's interactive Israel education curriculum, "Israel Inside U." The program, developed by former Harvard lecturer, Dr. Tal Ben-Shahar, will be available at approximately 400 Jewish summer camps across the United States, educating thousands of Jewish campers.
"This program is about building character while building connection to Israel and Jewish values," explains Andrea Gottlieb, Executive Director of Jerusalem U. "It is a new, creative educational adventure that is sure to be one of the children's summer highlights."
The program nurtures in the young people an emotional connection to Israel and the Jewish people. Gottlieb stressed that, "The strength of these bonds are particularly important because we are seeing anti-Israel messaging not only in the media and on college campuses, but trickling down into high schools and middle schools. This program is an insurance policy to show the amazing story of Israel, the story that is so rarely told."
Thanks to a generous grant, "Israel Inside U" is being completely underwritten for all Jewish camps in the United States during the summer of 2013. Movies, activities and workshops are at the heart of this compelling and insightful program. "Israel Inside U: The Camp Experience" kick starts with a screening of the award-winning film "Israel Inside: How a Small Nation Makes a Big Difference." The film will inspire campers to love Israel and to want to learn more about the country, while instilling a strong sense of Jewish pride.
Gottlieb says, "We hope the film will light a spark encouraging campers to participate in one of the many trips to Israel available to teens today."
"Israel Inside U" then presents six, action-packed activities featuring brief videos which encourage campers to grapple with core issues about what is important in life, what compels us, what values should dictate our actions, and, ultimately, how to lead a meaningful life. Taking an imaginative and playful approach, Dr. Ben-Shahar, host of "Israel Inside," and Efi Bibi, a charismatic Israeli actor, delve into the "actualizers," or characteristics of Israelis that enable them to succeed against all odds, and bring them to life on the streets of Jerusalem. Each activity is tailored for campers, ages 10 and up.
"This program is geared for students of the 21st Century," Dr. Ben-Shahar explained. "It is 'Israel education for the YouTube Generation,' combining engaging short films and activities to stir the imagination and capture the student's attention."
"Please encourage your children's camp to participate," added Gottlieb. "Let us know if you would like us to reach out to them."
To view sample videos, download a sample activity, or order the free program, visit http://www.israelinsidethemovie.com/camp-experience.
Contact Andrea Gottlieb at Andrea(at)JerusalemU(dot)org for more information.
Jerusalem U provides a wide variety of fresh and innovative Israel and Jewish education programs, merging the power of film with some of the world's most respected Jewish theologians and Middle East experts.
For media inquiries and more information please contact:
Media(at)JerusalemU(dot)org.