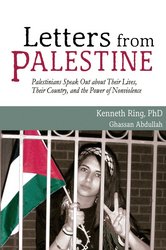 American foreign policy has been dismissive and disdainful of the Palestinian narrative. Americans need to read stories like these.
Kentfield, CA (PRWEB) July 27, 2010
Israel's recent assault on unarmed humanitarian activists in the Gaza flotilla caused outrage around the world. Yet it is just the latest in a string of anti-Palestinian hostilities that includes the 2006 Lebanon War and the Gaza War of 2008-2009. Dr. Kenneth Ring's latest book sheds new light on the struggles of Palestinians from all walks of life, including those who are American-born.
"Letters from Palestine: Palestinians Speak Out about Their Lives, Their Country, and the Power of Nonviolence" consists of several dozen moving and informative stories. Written by Palestinian people, many of them young, these narratives depict various aspects of contemporary Palestinian life. Many are intimate accounts of daily suffering and humiliation. But woven through these sometimes graphic accounts are also bright threads of hope for the future and flashes of humor at the absurdity of life under occupation. Another major theme of these stories is Palestinians' fervent commitment to non-violence, something that is rarely noted in the American media.
The contributors reveal what the media has often refused to discuss: Israel has taken a nearly genocidal approach to Palestine yet the people refuse to die off. The youthful makeup of most of the book's contributors offers reassuring evidence that there is indeed a future for Palestine. The contributors also will not allow the memories of their parents and grandparents to fade.
The author wants to put a human face on the abstraction of the Palestinian people. Only then can Americans feel the true horror of the breaches of humanitarian and international law that occur there every day. Ring says, "Americans face a highly biased and uncritical public media. They need to read stories like these."
Perhaps one the most enlightening accounts is from a woman named Shireen Tawil. Shireen grew up in Washington, D.C. As a child, she overheard words like deportation, refugees and torture before she was old enough to understand what they meant. These discussions and her parents' daily search for any news from their homeland inspired Shireen to educate herself about adeyat phalastin, the question of Palestine.
As an adult, Shireen recognizes that when people have no country, education is all they have left. Ironically, this is the same view historically held by Jews. Palestinians also prize education above all, which is why they are sometimes called "the Jews of the Arabs." With every obstructive action Israel takes against Palestinians, such as impeding their education, it steps closer to sealing its own demise. And in regard to its military oppression of the Palestinians, Ring says, "In defeating its perceived foes, Israel only defeats itself."
Although "Letters from Palestine" includes stories from the West Bank, those from Gaza are especially significant now because the siege is so often in the news. Standouts here include the experiences of Monir Deeb, a Gaza-born American immigrant who contributed two stories. The first reveals the prejudice and humiliation in trying to cross into or out of his homeland on a normal visit. He also writes eloquently about his participation in the first ships of the Free Gaza Movement to breach the siege.
In "My Flight from Gaza," Fulbright Scholar Zohair Abu-Shaban shows how Israel continues to deny Palestinians access to education. Ring was particularly angered by Zohair's difficulties because the would-be scholar was prevented from attending Ring's own university. Despite months of effort, Ring was unable to persuade anyone in America to help.
Zohair eventually received a second scholarship to study at the Imperial College London. He narrowly avoided losing even that opportunity, and was only able to escape when one of the Free Gaza boats spirited him to Cyprus. Two weeks later he was starting his new life in London when the Gaza War of 2008-2009 began. Tragically, he soon learned that five of his relatives were killed and another eight were injured during the attacks.
Ring knew two of the Americans who were on the flotilla attacked in May of this year. Both were beaten and treated brutally by Israeli authorities. In the months since, Ring has not seen anything that indicates that the deadly assault will prevent new attempts at breaking the siege. He asks, "What price will Israel eventually have to pay for its crimes against innocent civilians?"
Ring's condemnation carries the weight of credibility. In order to write this book, he traveled to the West Bank to investigate conditions firsthand and has had extensive contact with Palestinians. He is also Jewish, and hopes to reach American Jews with this book.
"American foreign policy has historically been overwhelmingly pro-Israel in large part due to the attitudes and influence of American Jewry," Rings says. "American foreign policy has been dismissive and disdainful of the Palestinian narrative." By unveiling the human faces behind the suffering, Ring hopes to contribute to a renewed American search for real answers to the question of Palestine.
Ring is widely known for his groundbreaking research into near-death experiences. The author of five books on that topic, this is his first book on Palestine.
More information about the book and the author is available at http://www.lettersfrompalestine.com . This work has already received excellent reviews and has been called a must-read. It provides photos of the individual contributors in order to help readers connect an image of the person with his or her words. "Letters from Palestine" has been called "the perfect vehicle by which an entire nation, rendered voiceless, speaks…to the entire world."
"My hope is that Americans become more sympathetic to the struggle for Palestinian justice," Ring says. After reading "Letters from Palestine," Americans and people worldwide surely will.
###