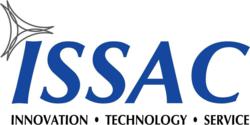 We work hard to do our due diligence to identify charities that have missions we believe in, as well as ones that are highly rated for using the majority of the funds to support their work.
Colorado Springs, Colorado (PRWEB) January 19, 2012
Eve Jones, ISSAC Corp co-founder and Director of Human Resources, leads the effort of identifying charitable organizations to provide donations to each year. ISSAC Corp also solicits input concerning the various organizations their employees support.
"We work hard to do our due diligence to identify charities that have missions we believe in, as well as ones that are highly rated for using the majority of the funds collected to support their work. We want to ensure that as much of our donations goes to the programs as possible, rather than fundraising or officers' salaries," said Jones.
Members of the ISSAC Corp team also devote time to support the community through membership in a variety of professional and charitable organizations. Eve is a member of the Junior League of Colorado Springs, which is a women's organization that relies solely on the work of volunteers to support many projects and programs related to women and children in the Colorado Springs community.
ISSAC provided donations to the following organizations in 2011: Colorado Springs Newspapers in Education; Avon Walk for Breast Cancer; Seena Magowitz Foundation – Pancreatic Cancer Research Foundation; South Metro Safety Foundation (to put 2 Automatic External Defibrillators (AEDs) into Colorado Springs schools in an effort to prevent death from sudden cardiac arrest; Ronald McDonald House Charities of Southern Colorado, Inc.; Care & Share, Inc.; Energy Outreach Colorado; Wounded Warrior Project, Inc., and the Junior League of Colorado Springs.
ISSAC Corp remains committed to giving back to the community that has supported the continued success of this small engineering firm. Tim Jones, Founder and President of ISSAC Corp stated, "We know we are very fortunate to have continued success in this tough economic environment. Our goal since day one of establishing this corporation was to ensure we always support the needs of our local community by providing financial and volunteer support to high-quality charitable organizations."
ISSAC Corp (Innovative Support Services and Consulting) is a Colorado Springs, Colorado based Service Disabled Veteran Owned Small Business (SDVOSB) focused on providing the absolute best System Engineering and Innovation team possible. ISSAC Corp has developed a novel Systems Engineering approach which manages the full life cycle of any Business Intelligence Engineering process. This capability, Systems Engineering Toolset (SETs™) Integrate Process (SIP™), provides a nine step life cycle management process which produces a tailored Knowledge Management System (KMS) and automated engineering documentation generation capability. The KMS capability can also be tailored for other customer needs such as event management, including historical analytical data, data association capabilities, and configuration control/management. ISSAC Corp is also working on new techniques for data fusion using a company developed Quantum Circuit Inspired Network (QCIN™) capability. For more information on ISSAC Corp, visit their website at http://www.issaccorp.com.
###