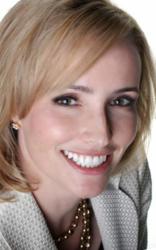 The main reason I chose to practice the art of dentistry is because it gives me an amazing opportunity to change people's lives.
Issaquah, WA (PRWEB) December 29, 2011
Dr. Kelley Fisher, a highly skilled dentist serving Issaquah WA and surrounding areas, has been voted Top Dentist by her peers in Seattle Metropolitan Magazine for the last three years. After graduating from the Creighton University School of Dentistry in 2001, Dr. Fisher went on to train at the Dawson Academy where she studied advanced occlusion. She is also proud to be one of only two women dentists in the Seattle area that are a sustaining member of the American Academy of Cosmetic Dentistry, having passed a rigorous cosmetic dentistry examination to achieve this status. Dr. Fisher's specialized training in occlusal (proper bite) treatment combined with the artistry of cosmetic dentistry makes her the leading expert in functional smile design. Her Issaquah cosmetic dentistry practice offers restorative, cosmetic and implant dentistry to Issaquah area patients, and her expertise in this field is recognized by her peers who awarded her the honor of Top Dentist in 2009, '10 and '11.
Dr. Fisher's training also includes how the muscles, joints, and teeth all work together. Beyond "tooth" dentistry, Dr. Fisher's comprehensive understanding enables her to treat painful TMD symptoms - migraines, facial pain and sensitive teeth. Dr. Fisher has personally dealt with an unbalanced TMJ (jaw joint) and knows first hand how life-changing relief can be!
Seattle Metropolitan Magazine sends ballots to dentists listed online with the American Dental Association and other local dental societies and asks them to name a dentist to whom they would refer patients. Each general dentist evaluates specialists and each specialist evaluates general dentists with whose work he or she is familiar. These evaluations are based on a practitioner's years of experience, continuing education, manner with patients, use of new techniques and technologies and physical results. Dentists who receive the highest average ratings and who are licensed and in good standing with the Washington State Department of Health are selected for the final list.
For Dr. Kelley Fisher, dentist in Issaquah WA, this honor of being named Top Dentist three years in a row reflects her commitment to her patients and her community as well as her dedication to serving their dental needs with the utmost skill and care. Congratulations to Dr. Fisher!
# # #