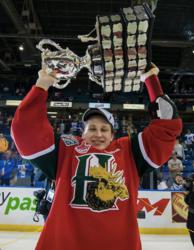 Nathan MacKinnon moves back to ISS #1 after answering any questions we had about him with his dominating MVP Memorial Cup performance.
Boca Raton, FL (PRWEB) May 28, 2013
ISS Hockey announces the release of the 2013 ISS NHL Draft Guide. The ISS NHL Draft Guide provides a comprehensive analysis and preview of the National Hockey League Draft to be held on June 30, 2013.
With the close of the junior hockey season this past weekend and in advance of the upcoming NHL Draft, ISS Hockey has named Nathan MacKinnon the #1 ranked prospect, supplanting Seth Jones who had held the position for much of the season. Rounding out the Top 5 are #2-Seth Jones, #3-Jonathan Drouin, #4-Valery Nichushkin, and #5-Sasha Barkov. The current ISS Top 30 can always be viewed at: ISShockey.com/iss-top-30
"Nathan MacKinnon moves back to ISS #1 after answering any questions we had about him with his dominating MVP Memorial Cup performance", says ISS Director of Scouting Dennis MacInnis. "I have personally been watching MacKinnon since he was a pee-wee, and while his skills have become top 1% in the world, what has impressed me most has been his growing maturity - the bigger the moment, the more hungry he becomes."
The industry-leading ISS NHL Draft Guide features rankings and detailed scouting profiles of the top 220 NHL draft eligible prospects, as determined by ISS's worldwide scouting staff. Also included are depth charts for each NHL team, analyzing past drafts and free agency outlooks, picks of the top Wildcards & Sleepers, Top 5 players in 14 categories (such as Top Scorer, Toughest, Under Rated, Over Rated, etc.), and ISS Mock Draft, as picked by the consensus of ISS scouts. As a bonus, the ISS NHL Draft Guide includes an outlook on the next two NHL Drafts with rankings of the Top 50 prospects for 2014 and Top 30 prospects for 2015.
ISS Hockey's scouting services and the ISS NHL Draft Guide are vital tools for most NHL teams, as our scouting information supplements their internal scouting capabilities by providing an independent outlook on prospects they are watching and making sure that no one slips through the cracks.
For hockey fans and fantasy players, the ISS NHL Draft Guide has become the "de facto bible" for providing the vital information needed to truly understand the NHL Draft from the eyes of professional scouts. ISS scouts have been tracking the prospects eligible for the NHL Draft for years (typically from the age of fourteen), so they have unique knowledge of the strengths, weaknesses and probabilities for success at the NHL level for these young men.
"The ISS NHL Draft Guide is truly an indispensable tool for NHL teams and hockey fans", says ISS CEO Stu Siegel. "We are excited to share our detailed scouting profiles on the top 220 prospects representing the future of the NHL".
To purchase the guide or to get more information, please visit: ISShockey.com/nhl-draft-guide
About ISS Hockey
ISS Hockey (International Scouting Services Inc.) is the leading independent scouting and information provider on hockey player prospects aged 14 to 19. Founded in 2002, ISS scouts, evaluates, analyzes and ranks players internationally on behalf of its many clients, which include (among others): NHL Teams, Hockey Canada, Major Junior Leagues & Teams (CHL, QMJHL, OHL, WHL, USHL), NCAA Teams, TSN, THN: The Hockey News and Sports Agencies. The ISS annual NHL Draft Guide has become the de facto draft reference guide for NHL scouts, fans and sports media. All ISS products are widely utilized in the hockey world, building an industry leading reputation for the best and most comprehensive scouting information. This incredible status leads every young hockey player desiring to advance in the sport to aspire to be scouted and ranked by ISS. The key to the success of ISS is the incredible worldwide network of ISS Hockey scouts. ISS scouts are within reach of every young hockey player in the world, and attend every major hockey tournament, in addition to thousands of league games. Game and player reports are input into ISS's state-of-the-art systems and evaluated assure reliability and consistency. All players that we rank will have been seen and evaluated many times by several of ISS scouts.
Get free ISS Hockey membership at: ISShockey.com/register
Follow ISS Hockey on Twitter: @ISShockey
Like ISS Hockey on Facebook: Facebook.com/ISShockey