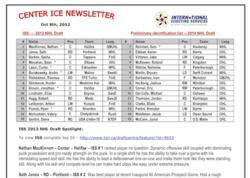 For a very reasonable annual subscription cost, subscribers get access to much of the same information that ISS provides to NHL GM's and scouts.
Boca Raton, FL (PRWEB) October 25, 2012
ISS Hockey, the leading independent scouting and information provider on hockey player prospects aged 14 to 19, announces the revamping of its renowned Center Ice Newsletter subscription service.
The ISS Center Ice Newsletter is a valuable resource, highlighting and profiling the top draft eligible prospects for the 2013 and 2014 NHL Drafts. It also provides glimpses of the top junior prospects for the OHL, WHL, and QMJHL drafts, along with top prospect reports from Europe. Plus, it includes spotlights, news and notes on the next wave of talent that the renowned worldwide ISS scouts are watching.
The ISS Center Ice Newsletter is now sent bi-weekly during the season and monthly during the off-season, assuring that subscribers always have the most updated information delivered to them via email.
To celebrate the new ISS Center Ice Newsletter, ISS is offering a limited time discounted annual subscription price of $89.95. This represents a $10 discount off of the regular $99.95 annual subscription, and is available until November 2nd.
To take advantage of this limited time offer, please visit: http://www.isshockey.com/scouting/products?product_id=71
About ISS Hockey
ISS Hockey (International Scouting Services) is the leading independent scouting and information provider on hockey player prospects aged 14 to 19. Founded in 2002, ISS scouts, evaluates, analyzes and ranks players internationally on behalf of its many clients, which include (among others): NHL Teams, Hockey Canada, Major Junior Leagues & Teams (CHL, QMJHL, OHL, WHL, USHL), NCAA Teams, TSN, THN: The Hockey News and Sports Agencies. The ISS annual NHL Draft Guide has become the de facto draft reference guide for NHL scouts, fans and sports media. All ISS products are widely utilized in the hockey world, building an industry leading reputation for the best and most comprehensive scouting information. This incredible status leads every young hockey player desiring to advance in the sport to aspire to be scouted and ranked by ISS. The key to the success of ISS is the incredible worldwide network of ISS Hockey scouts. ISS scouts are within reach of every young hockey player in the world, and attend every major hockey tournament, in addition to thousands of league games. Game and player reports are input into ISS's state-of-the-art systems and evaluated assure reliability and consistency. All players that we rank will have been seen and evaluated many times by several of ISS scouts.
Visit the company's website at: http://www.isshockey.com