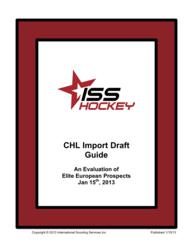 The ISS Import Draft Guide is an indispensable tool for all junior teams and NCAA programs that do international recruiting.
Boca Raton, FL (PRWEB) January 31, 2013
ISS Hockey has issued its first release of the 2013 Import Draft Guide. The ISS Import Draft Guide is the definitive evaluation of elite European hockey prospects, including rankings of the top 100 junior-aged players from Europe. While geared toward the CHL Import Draft, this guide has gained the reputation for being the indispensable first look at the future NHL stars who will be coming over from Sweden, Finland, Russia, Czech Republic and the other hockey hot-beds of Europe.
"ISS has helped me prepare fully for all the import drafts the Spitfires have been involved in", says Warren Rychel, VP/General Manager of the Windsor Spitfires. "Their professionalism is outstanding in the rink and away from it as well. They would compliment any league or organization."
In addition to rankings, the ISS Import Draft Guide features in-depth scouting reports and profiles on the European prospects available for the draft. It also includes agent names for those already being represented, as well as contact information. It is an indispensable tool for all junior teams and NCAA college programs that do international recruiting.
"The ISS Import Draft Guide provides the first look at junior-aged players that North American junior leagues and colleges should be recruiting", says ISS Hockey CEO Stu Siegel. "Our worldwide network of scouts identifies these prospects earlier than any other organization, providing a true competitive edge to our customers", adds Siegel, the former owner/CEO of the NHL's Florida Panthers.
The ISS Import Draft Guide is released in two comprehensive reports. The first release is now available, and the second release will be published in May 2013. The purchase price includes both releases. For more information, please visit the product page at:
http://www.isshockey.com/shop/import-draft-guide
ABOUT ISS HOCKEY
ISS Hockey (International Scouting Services Inc.) is the leading independent scouting and information provider on hockey player prospects aged 14 to 19. Founded in 2002, ISS scouts, evaluates, analyzes and ranks players internationally on behalf of its many clients, which include (among others): NHL Teams, Hockey Canada, Major Junior Leagues & Teams (CHL, QMJHL, OHL, WHL, USHL), NCAA Teams, TSN, THN: The Hockey News and Sports Agencies. The ISS annual NHL Draft Guide has become the de facto draft reference guide for NHL scouts, fans and sports media. All ISS products are widely utilized in the hockey world, building an industry leading reputation for the best and most comprehensive scouting information. This incredible status leads every young hockey player desiring to advance in the sport to aspire to be scouted and ranked by ISS. The key to the success of ISS is the incredible worldwide network of ISS Hockey scouts. ISS scouts are within reach of every young hockey player in the world, and attend every major hockey tournament, in addition to thousands of league games. Game and player reports are input into ISS's state-of-the-art systems and evaluated assure reliability and consistency. All players that we rank will have been seen and evaluated many times by several of ISS scouts.
Get free ISS Hockey membership at: http://www.isshockey.com/register
Follow ISS Hockey on Twitter: @ISShockey
Like ISS Hockey on Facebook: Facebook.com/ISShockey