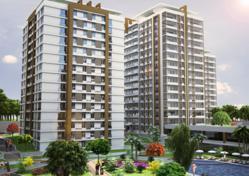 While the property markets in European cities remains uncertain, Turkey's largest city has offered a solid, reliable alternative Western Europe. I can see this continuing in 2012 as Turkey benefits to some extent from uncertainty in the West.
(PRWEB UK) 17 February 2012
In some ways Istanbul or Constantinople as it used to be called can be considered the final frontier in Europe, literally the end of the line for the mythical Orient Express famed in Agatha Christie's crime novel. To simplify the process for investors http://www.colordarcy.com reveal their best places to invest in Istanbul.
For property investors the mystery lies in unravelling the opportunities to profit from property within the city's boundaries. In a city with a population of 13 million, the property market is as diverse as its cosmopolitan inhabitant.
To keep things simple – the market can be broadly divided into middle class, working class up-and-coming areas and university districts. Nothing unusual there, however this is Istanbul which has been one of the best performing property markets in 2011 and is set to continue growing in 2012.
So where should you invest for profit in Istanbul?
Loxley McKenzie Managing Director of http://www.colordarcy.com said, "While the property markets in European cities remains uncertain, Turkey's largest city has offered a solid, reliable alternative Western Europe. I can see this continuing in 2012 as Turkey benefits to some extent from uncertainty in the West."
Beylikduzu is a district alive with activity and a construction boom that is frantically trying to satisfy demand for good quality properties suitable for a highly educated, though perhaps less demanding population than other Istanbul districts.
This is where working class meets middle class meets intellectuals and this is always a recipe for growth and development as seen to spectacular effect in cities in the UK.
Jobs are plentiful with the bustling Mercedes Benz bus factory keeping many of the district's inhabitants busy and there are the three universities with a student population of 14,000 guaranteeing huge demand for available living space every year.
The young, dynamic district of Beylikduzu has generated annual growth of 15% which puts it firmly at the top of the list but there are other hidden gems to consider including property in Yesiyurt.
Yesilyurt means 'green homeland,' add in the gentle lapping of the Marmara sea and you have the perfect recipe for middle class demand for property. The population in this district are affluent and living mainly in low rise houses and apartments with sea views (if they can get hold of them).
This district is also home to the city's air force academy and with yields approaching 8%, you are unlikely to be disappointed by the rental returns you can get on property.
Next up is Esenyurt another up and coming area on the European side of Istanbul with prices as low as £25,000 for a luxury studio apartment, this is the equivalent of a reasonably priced Ford Mondeo!
As well as having the cheapest entry point in http://www.colordarcy.com top Istanbul investment districts, a journey to the nearby airport from this developing suburban zone of Istanbul will take you just 15 minutes by car.
The district is also near to the city centre and university campuses and close to the booming Beylikduzu district. Town planners are in the process of creating concepts for cutting edge mixed use developments modelled on those being created elsewhere in the city.
Many of those are reaching completion and should see this make property in Esenyurt high on investors' lists 2012.
Investing in the districts mentioned should generate a handsome return on investment but for the investor who prefers something closer to the bustling centre of the world's 20th largest city, restrictions have recently been lifted on foreign investment in the historic, cosmopolitan district of Beyoglu.
Beyoglu is within walking distance of Taksim Square (The Trafalgar Square of Istanbul). Rental yields here approach 9% for smaller apartments, though it has to be said, property is expensive in this district and yields can fall dramatically for larger apartments.
All things considered Istanbul offers and excellent alternative to property in other major cities in Europe with prices at more realistic levels.
Notes to the editor:
Colordarcy is a leading property investment company that specialises in finding positive cash flow investment properties worldwide. Their aim is to provide their clients with properties that offer the unique combination of strong growth returns and cash flow positive income.
Investing in positive cash flow property significantly reduces the risk because the property will pay for itself regardless of market conditions, employment status or other financial commitments.
Colordarcy provides complete support before, during and after a sale, including finding tenants, financial assistance, viewing trips and currency services. Colordarcy are proud members of the 'Association of International Property Professionals' (AIPP), and abide by its code of conduct, one established to protect the buyer, by ensuring members follow professional guidelines and procedures.
Colordarcy investment property portfolio includes some of the best properties for sale in Atlanta, Brazil, Florida, Turkey and the United Kingdom.
For more information, supporting pictures or logo artwork, please contact:
Steve Billing
PR Manager
Tel: +44 (0) 207 100 2393
Email: press(at)colordarcy(dot)com
Colordarcy Investment Ltd
35 New Broad Street
London
EC2M 1NH
###