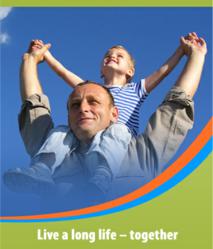 Get TWO yearly memberships or gift certificates for the price of one
(PRWEB) September 14, 2010
San Francisco, CA For Wellness Week, from September 20-26th, iStayYoung™ is pleased to offer a fabulous deal of "Get TWO yearly memberships or gift certificates for the price of one," to people of all ages across the country.
This is the chance for couples, families and friends to get on the exciting program on staying young - together. The special link for this exclusive offer is http://www.istayyoung.net/signup_gift_offer.php.
iStayYoung™ (iSY), Your Daily Dose of Youth, is a revolutionary anti-aging methodology which pairs the power of scientific studies with simple action for the best results.
iStayYoung's members receive one challenge a day to keep or regain their youth, delivered as they choose: email, on their iPhone/iPad/iTouch or on the iStayYoung.net.
According to the International Symposium on prevention of aging, average life expectancy has increased by 15 years in the last decades. Next year it is predicted there will be 23.7% of U.S. people over the age of sixty, which is almost a quarter of the whole population.
Shockingly, the United States is behind 30 other countries when it comes to life expectancy. Though we have by far the highest level of health care spending per capita in the world, we have one of the lowest life expectancies among developed nations.
It is now possible, thanks to medical advances and lifestyle improvements, to live a longer life. But it's only worth it if we remain mentally and physically healthy. It's all about being able to enjoy life no matter our age.
It's a no-brainer that to increase longevity people need to reduce the aging process in their bodies and brain – and the younger they start the better.
The iStayYoung team scours current scientific studies for keys to staying young, such as: Neurobics, physical fitness, anti-aging, anti-stress, sleep, nutrition and emotional wellness.
They read through lots of long, complicated (and sometimes boring) studies, then interpret the results, extract important facts, and create challenges in a simplified version, so it's easy for everyone to use in their daily life.
Here's an example. Today's challenge could be: "Today, create your own recipe using blueberries, but without milk - studies show milk blocks your body's absorption of the berries' powerful antioxidants. Then eat the food with your eyes closed! By stimulating your other senses, you strengthen neural connections in your brain and even create new ones."
People need just one good, scientifically proven new habit a day. The trick is to do it every day. By day 365, they will have positively impacted their life 365 times in a few minutes a day without even breaking a sweat. It's the power of simple compounding.
iStayYoung is incredibly EaSY! Just one challenge a day - everyday.
The iStayYoung membership is a great value at $1.99/year and FREE for seniors 65+! The special link for this exclusive offer is http://www.istayyoung.net/signup_gift_offer.php.
Member's satisfaction is guaranteed or your money back, no questions asked.
iStayYoung can be found at http://www.iStayYoung.net
On iTunes
on Facebook @iStayYoung
and on Twitter.com @iStayYoung
Happy and fun longevity!
# # #