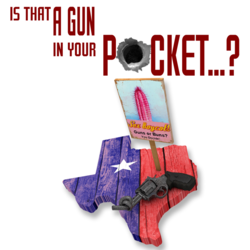 What began as a straightforward comedy has taken on a whole new dimension in light of the tragic events in Newtown, Aurora and Tucson. But these events have only strengthened my resolve.
Hollywood, CA (PRWEB) May 08, 2013
International actress, model and "Celebrity Apprentice" alum Patricia Velasquez took to social media by lending her voice to writer/director Matt Cooper's sexy Kickstarter Video Ad Campaign to help raise funds for his extremely topical gun control-themed feature film, "Is That A Gun In Your Pocket ...?"
Cooper shot several suggestive tongue-in-cheek videos, to be released in upcoming days, which feature attractive women (and, "spoiler alert," one with a hunky man) taunting viewers to "make a pledge for sex" and contribute to the film. Actress Patricia Velasquez was the first celebrity to jump on board to help bring awareness to Cooper's Kickstarter efforts. "I was one of a handful of people who had the opportunity to read the script for 'Is That A Gun In Your Pocket ...?,"' says Velasquez. "I absolutely loved it, and offered to be involved in any way I could. Matt's a very good filmmaker, and this is one of those movies that has to get made."
"Is That A Gun in Your Pocket ...?", written by filmmaker Matt Cooper, is a modern-day version of the ancient Greek play, "Lysistrata," which told the story of women in Greece withholding sex as a means of forcing their men to end the Peloponnesian War. Though Cooper's script is being held tightly "under wraps," his comedic tale is about a group of strong-willed women in a small Texas town who go on a sex strike until all the guns in town are destroyed. What ensues is a hilarious test of wills between the sexes, which should titillate and provoke much discussion among audiences.
"What began as a straightforward comedy has taken on a whole new dimension in light of the tragic events in Newtown, Aurora and Tucson," says Cooper. "But these events have only strengthened my resolve. Lately, it seems like we're living back in the Wild West, only the six-shooter's been replaced by an AK-47. In fact, I am so passionate about this project that I have already raised over $400,000 myself."
Why Kickstarter? "Obviously, this movie tackles the very controversial topic of gun control and is outside the comfort zone of the studios," says Cooper. "We know we're going to catch a lot of flak from gun advocates and NRA members, so we really need the support of the silent majority. Unless you're making a horror flick for $500,000 or less, getting funding for independent mainstream films is virtually impossible right now. Kickstarter is a difficult, yet viable platform. We've seen it work so we know it can be done."
No newcomer to the film business, Cooper is a seasoned writer/producer/director of numerous independent films. Some of his films include "Panic" (William H. Macy, Neve Campbell, Tracey Ullman, Donald Sutherland), "The Last Supper" (Cameron Diaz, Bill Paxton, Mark Harmon, Jason Alexander), "Campfire Tales" (James Marsden, Amy Smart, Ron Livingston) and "Perfect Opposites" (Piper Perabo, Aaron Paul, Martin Henderson).
With the help of movie fans, Cooper will use the Kickstarter contributions to assemble a top notch cast and crew as he has done in all of his previous films. Three incredible department heads who have already signed onto the film are Editor Luis Colina ("The Big Lebowski," "Entourage," "Dirty Dancing: Havana Nights"), Costume Designer Susan Matheson ("X-Men 2," "Friday Night Lights," "Couples Retreat") and Production Designer Franco-Giacomo Carbone ("Wonderland," "The Expendables," "The Call").
Just over two weeks left in the Kickstarter campaign, Cooper still needs two million dollars to reach his goal. He has already raised $145,800 even without the celebrity clout of other successful Kickstarter campaigns. Cooper hopes film buffs will appreciate his clever and unconventional methods to create awareness for his movie. "Please contribute to this film," prods Cooper, whose Kickstarter campaign has some desirable rewards, ranging from personal screenings with the cast and crew to walk-on roles. "Every little bit helps us get closer to our goal, and every dollar we raise will go right up on the screen. This is truly a labor of love."
Cooper realizes that as long as there's Internet, there will always be "haters," and he has already heard the wrath from gun advocates and NRA members to an earlier video he released. "I didn't anticipate that these gun control-related videos would be such a lightning rod," says Cooper. In response to gun advocates challenging his video campaign: "These videos were meant to be playful and provocative," explains Cooper. "I enjoy impassioned debate and welcome the controversy, but we never expected the firestorm we've experienced. I'm a bit surprised how mean-spirited, hostile and vitriolic some of these gun advocates have been in response to our campaign. Many of their comments are downright vicious, but that's the modus operandi of bullies. I say, the louder they yell … the more their throats are gonna hurt."
Make A Pledge For Sex Over Guns; Donate to Kickstarter, Click Here
More on Matt Cooper, Click Here
Watch Patricia Velasquez's "Is That A Gun In Your Pocket ...?" videos and more, Click Here
Join the Conversation, Like us on Facebook, Click Here
Tweet us: @GunNPocket
About Matt Cooper: A former stand-up comedian, Matt Cooper is an accomplished screenwriter, playwright, film director and producer. Raised in Long Island, NY, and now residing in Los Angeles, Cooper is a graduate of both the UCLA School of Cinema and the Hofstra School of Law. He is also a board member of several philanthropic organizations.
About Patricia Velasquez: This beautiful and talented model and international film/TV actress is best known for her roles in "The Mummy Returns," "Rescue Me," "The L Word," as well as her role as Marta on "Arrested Development." She also recently appeared in NBC's "Celebrity Apprentice" raising funds for her charity, The Wayuu Taya Foundation.
For Media Interviews, Please Contact:
Kathy Duliakas
818-760-4112