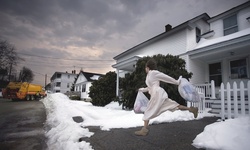 Crowdsourcing: Why the Power of Crowds is Driving the Future of Business.
CALGARY, Alberta (PRWEB) August 26, 2008
iStock is well-known as one of the first successfully crowdsourced businesses and is featured in Jeff Howe's, newly released book, "Crowdsourcing: Why the Power of Crowds is Driving the Future of Business." iStock is one of the first and few Web sites to share revenue with its members and continues to expand rapidly worldwide. The site now serves more than 3.6 million users in nearly every country in the world and sells an image or video nearly every second. In less than two years, the iStockvideo collection has grown to more than 100,000 clips.
iStock imagery is everywhere, from the screened pictures of dewy vegetables suspended above the produce in your local grocery, to Web and print ads internationally, to billboards and band posters. iStock pictures also illustrate innumerable newspaper and magazine articles worldwide. iStock video clips are seen in documentaries, on nationally-televised news shows, music awards broadcasts and in international films.
About iStockphoto
iStockphoto, http://www.istockphoto.com, is the world's leading royalty-free stock destination, with an image downloaded every 1.3 seconds. iStock pioneered the micropayment phenomenon in this industry, enabling buyers to license images for as little as a dollar. iStockphoto entered the stock video market with similarly enticing price points in September of 2006. In partnership with its members, iStockphoto has turned community into commerce, transforming the digital imagery market by encouraging passionate dialogue and education, while making imagery affordable to businesses that may not have licensed imagery otherwise. iStockphoto is headquartered in Calgary, Alberta, Canada, and is a wholly-owned subsidiary of Getty Images.
MULTIMEDIA GALLERY http://www.businesswire.com/cgi-bin/mmg.cgi?eid=5764135