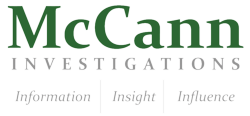 We have had cases where the senior CIO was diverting company funds to a personal account.
Houston, TX (PRWEB) January 24, 2013
McCann Investigations , a Texas-based computer forensics firm, released a white paper titled The Unchecked Power of the Senior Most IT Professional. This paper explores the complex issue of terminating the most senior IT professional, such as a CIO, CTO or Director of IT and what can go wrong and methods can be taken to contain the risk. Most company data is stored electronically, the senior IT professional holds an unmatched amount of power over all of the digital information, including passwords, intellectual property, client information, financial records, and sources of capital.
The hostile CIO or CTO can cause tremendous damage to a company. These individuals possess all of the security information for the company and can easily install malicious programs that can spy on the company network remotely or can be set to wreak havoc on the IT network at a later time.
"We have had cases where the senior CIO was diverting company funds to a personal account," said Daniel Weiss, Partner at McCann Investigations. "It can be difficult to capture and document this evidence as the CIO has complete control of the company's IT network and the in depth knowledge to hide the evidence."
About McCann Investigations
http://www.mccanninvestigations.com
Twitter: @mccanngi
Facebook: http://www.facebook.com/McCannInvestigations
McCann Investigations is a full service private investigations firm providing complete case solutions by employing cutting-edge computer forensics and traditional PI tools and techniques. For 25 years, McCann's investigators have worked in the public and private sector encompassing law enforcement, physical and electronic security and computer forensics.
McCann works with Law Firms, Financial Firms, Private and Public companies and individuals in cases including contentious divorce, child custody issues, fraud, embezzlement, spyware/malware detection, civil and criminal background investigations, due diligence.
McCann Investigations tools include:

Computer Forensics
Mobile Device Forensics
Spyware/Malware Detection
Network Breach Detection
Digital Debugging
IT Network Vulnerability Assessments