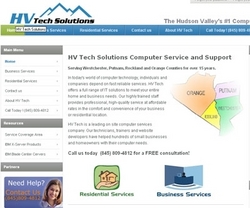 To compete today, you need a website that is search engine optimized.
Somers, NY (PRWEB) February 25, 2009
HV Tech Solutions, responding to an industry trend that uses IT managed services to reduce overhead costs, is providing remote data backup, server virtualization and consolidation, and other strategic computer services to residential and business customers in the Hudson Valley. The trend reflects a strategy for freeing up cash from the IT budget to help companies stay competitive as unsettling economic realities call for increasingly proactive strategies.
Recently, the company has added an affordable document management system and Storage Guardian offsite data backup to a full-service lineup that includes:

Server virtualization services using IBM BladeCenter, VMware, Citrix and Microsoft
Network security
Home theater professional installation
Shared/wireless internet configuring
Website development and search engine marketing
These and other services are spelled out for the layperson at HVTechSolutions.com, the company's website designed to present high-tech solutions in an easily understood format. The everyday individual or businessperson browsing HVTechSolutions.com will quickly grasp such concepts as "server virtualization and consolidation" and "IT managed services." The website is also structured so visitors can submit information easily and decide which services might give them more security and increased savings.
David Ouimette, an HV Tech Solutions managing partner, explains, "In today's economic times you need to control and reduce your computing costs. HV Tech can show you how to reduce costs through server consolidation, managing your computers more proactively to prevent problems before they occur, and simply put, running your business better to save you money."
Ouimette and managing partner Glenn Mulhare, with more than fifteen years of IT experience in networking, computer support, network installations, managed services and desktop support, have built solutions that meet today's needs. Offsite data backup, network security, troubleshooting and other services are complemented by the creative marketing capabilities of these Hudson Valley web designers.
Visitors to HVTechSolutions.com can view live sites in the company's web design portfolio. In addition to intuitive, visually smart design, these services include SEO marketing that is more important than ever, according to Ouimette: "To compete today, you need a website that is search engine optimized."
To find out more about the company's Hudson Valley based business and residential services, visit the HV Tech Solutions website.
About HV Tech Solutions:
David Ouimette and Glenn Mulhare own and operate HV Tech Solutions, providing IT managed services and other computer solutions to businesses and residents in Westchester, Orange, Putnam and Rockland Counties of the Hudson Valley in New York State. Many professionals, including Microsoft certified technicians, consultants, and web development experts comprise the HV Tech Solutions team, committed to providing fast, reliable and friendly service.
###