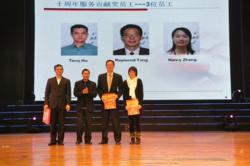 On the very special occasion of our 10th Anniversary, I want to extend my personal thanks for those that helped get us here
Milpitas, CA (PRWEB) March 08, 2012
The international and Bay Area IT service management specialist Achievo is celebrating 10 years of growth from a small group of IT service developers to a multi-national industry leader. Achievo has thrived in an industry where many have fared with difficulty by focusing on its core values: client centricity, employee development, teamwork and quality.
Over the course of its decade-long existence, Achievo's global team of IT professionals has built a reputation for reliability, efficiency, and high-touch communications. The company's long-term relationships reflect its commitment to effectively helping clients solve their IT problems, improve their profitability, and grow their business.
"On the very special occasion of our 10th Anniversary, I want to extend my personal thanks for those that helped get us here," stated Darryl Quan, CEO of Achievo. "We wouldn't be anywhere without our dedicated employees – who are in the trenches working with our clients and focused on delivering quality results every day. And to our wonderful clients – those that are new to working with us and those who have been with us from the beginning. We couldn't have done it without you. Cheers to you all and looking forward to the next 10 years!"
Achievo is quite unique in that it has always been and remains a U.S. company that markets, sells and builds customer relationships internationally utilizing indigenous and global resources. When Achievo was founded in 2002, the company consisted of a small head office in South San Francisco and an offshore development center in Shenzhen, China with a total headcount of 25.
Over the course of the last decade, the company has added a significant number of new clients and rapidly expanded its global presence. Achievo now employs over 2,000 employees in fourteen cities in the U.S., Canada, China and Japan.
As a leading global IT company, Achievo has earned numerous certifications of meeting the highest management and process improvement standards in the industry, including CMMI level 5, ISO 27001 and ISO 9001 certification. Achievo is also a certified developer for numerous technology platforms from IBM, Oracle, Microsoft and HP. In 2011, Achievo was recognized as a HP Software Gold Partner as well as a Microsoft Gold Partner in South China for Best Solutions.
Achievo has received numerous honors over the past decade, including placement on the 2008, 2009 and 2010 "Global Outsourcing 100" lists by the International Association of Outsourcing Professionals (IAOP) and the "Best Service Organization" award at the 2010 Computer Dealer News (CDN) Channel Elite Awards.
Achievo is constantly evolving in step with emerging technologies that its clients are using or relying upon. Performing forward market analyses and deploying investments to expand capabilities are part of Achievo's modus operandi. As the industry evolves, Achievo continues to embrace fundamental values and operating qualities that are timeless: high-touch customer service; reaching IT goals more efficiently, cost effectively and with less risk than competitors; and integrating a shared-risk model to help clients improve profitability and drive business growth.
This strategy has enabled Achievo to cultivate many long-term partnerships. Accela, a government software development agency, was one of Achievo's first clients, and continues to work closely with Achievo today.
Jerold Lo, CTO of Accela, says he is continually impressed with Achievo's efficiency, ability to overcome challenges, and flexibility. "For Accela, the partnership with Achievo has been proven to be one of the most successful and strategic decisions we have made," he states in a video testimonial.
As Achievo continues to grow and thrive, the company is dedicated to expanding its client base throughout California and Canada, as well as globally. Achievo will also continue to foster the commitment to excellence that has brought the firm recognition as a leading global and Bay Area IT services provider and employer of choice.
For more information the 10th anniversary of Achievo, or for information about any of Achievo's services, call (925) 452-6374 or visit http://www.achievo.com.
About Achievo
Achievo is a leading provider of information technology services and solutions for global clients. Its delivery centers are certified with world-class standards: ISO/IEC 27001, ISO 9001, and CMMi level 5. Headquartered in Silicon Valley, U.S.A., Achievo also has operations in Canada, China and Japan. The company's flexible service delivery approach adapts to each client's operating environment and project requirements, on a fixed-cost or time-and-material basis. Achievo's expertise includes IT service management, offshore development center, testing, mobile application development, IT resource support, IT testing, and IT staffing in the Bay Area and across the world.