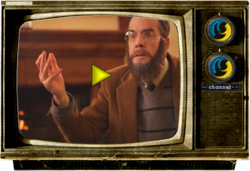 It was an idea we had at a team meeting and thought, 'yeah, we should make that into a commercial'
Los Angeles, CA (PRWEB) July 11, 2012
As part of a new ad campaign to breathe some life into the small business IT services industry, Velocity Network Solutions has released a new web based commercial. The commercial is a little over a minute long and features a therapist's office where a therapist is attempting to "reconnect" a couple that seems to be having issues. Later the shot reveals 2 laptops sitting in silence. The commercial itself was shot over the span of a weekend under director David Jiblaze and took roughly a month to complete in full.
Thad Gerber, President of Velocity Network Solutions, said that the commercial is, "more geared toward entertaining the office staff out there than anything else." Thad continued, "It was an idea we had at a team meeting where we all just laughed and thought, 'yeah, we should make that into a commercial.' Our Marketing Manager and some creative friends of ours took over from there." Velocity Network Solutions plans on releasing more commercials throughout the remainder of the year. Additionally, educational videos on cloud computing, managed services, backup and disaster recovery and other IT solutions will also be released.
The Velocity Network Solutions commercial can be seen HERE.
About Velocity Network Solutions
Founded in 1999, Velocity Network Solutions is one of the most experienced providers in the Los Angeles managed IT services industry, offering national cloud computing services and Los Angeles area managed IT services. Velocity Network Solutions' combination of hands-on, "boutique" style IT support with decades of broad, enterprise-level technical experience has given them a unique advantage within the market. Their expertise resides in small to mid-size business IT solutions centered on results driven consultation, full time support, cloud computing, business continuity, network design & implementation, preventative maintenance and backup & disaster recovery. Velocity Network Solutions is a privately held company headquartered in North Hollywood, CA.