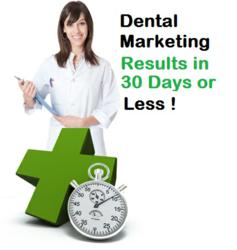 Dentist are busy treating patients. They want a simple, comprehensive, result oriented marketing solution for their dental practice.
San Jose CA (PRWEB) September 27, 2012
In a recent community event held in San Jose CA, Fixtro, announced a result oriented dental marketing program that includes regular telephonic follow up with up existing patients. "Dentists are busy treating patients. They do not have time to learn about dynamics of Search Engine Optimization or Pay Per Click or online marketing. They want a simple, comprehensive, marketing program that is in line with their dental practice goals", explained Deepak Sharma, IT Project Manager with Fixtro.
Comprehensive Dental Marketing plan deals with both short term and long term marketing plans of the dental practice. Instead of focusing on one aspect of online dental marketing such as SEO, Fixtro focuses on building the brand name of dental practice by improving the PR and recognition in the community. "Yes, we do Dental Marketing using SEO, PPC, and Local Listing. We also use tools such as the press release, article submissions, video submissions, infographics, and eMail Marketing. However, at the end of the day, these are just tools. What works like magic for us is the human touch", explained Dolly Sharma, Vice President of Operation with Fixtro.
Being a Dental IT Support company, we see how dental practices lose a significant amount of earnings on a daily basis due to patient's no shows and appointment cancelations. This problem can be significantly reduced by implementing Fixtro's per patient marketing strategy. Similarly, dental practices often lose hundreds of thousands of dollars due to patient churn. Dental practices around the San Francisco Bay Area lose patients to other dental practices. This problem can also be significantly reduced by implementing the Fixtro's unique per patient marketing plan.
While reducing patient churn and improving customer service in your dental practice, Fixtro, enhances dentist website to drive high quality traffic. Dental online marketing provider, Fixtro, do not offer automated solution or template based solution. Each website, online portal, iPhone or Andriod, App, Blog, or eMail is custom designed for the dental practice. Fixtro clients gain access to the group of experts including Graphic Designer, Web Site Designer, Database Engineer, Content Writer, Resource Manager, and the Project Manager. "It's like having your own marketing department," highlighted Deepak Sharma.
Fixtro also makes it offers risk free by offering 30 day's money back guarantee on its Dental Marketing Plan. Dentist interested in learning more about a complete dental marketing program can contact Fixtro at 510-709-4030 or visit them online.
About Fixtro:
Fixtro is a leading provider for Dental IT Support and Online Marketing services. Solution offering includes website design, online marketing, structured cabling, network design, desktop and server support and 24 x 7 helpdesk. Company provides comprehensive dental marketing solutions to clients from San Jose, Palo Alto, Santa Clara Emeryville, Danville, San Ramon, Concord, Fremont, Hayward and entire San Francisco Bay Area.