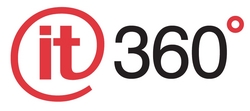 This year our event was delivered in a one day format which exceeded our success expectations for both the delegates and exhibitors. Our live event format allowed for personal networking and face-to-face relationships to take place
Toronto, ON (PRWEB) April 23, 2009
Earlier this month, the Canadian information technology industry converged in Toronto, April 8, 2009 at the IT360° Conference & Expo (http://www.it360.ca). Business and technology professionals congregated at IT360° to stay ahead of the technology curve, gain insight and better adapt to a constantly changing industry. Attendees maximized their business success by experiencing a 360-degree circle of information through the multi-sectored forum which focused on Unified Communications, Security, Data Centres, VoIP, IT Green, Cloud Computing, IT Business and Asterisk.
Attendees were captivated by the event's enlightening celebrity keynote, Michael Calce (aka Mafiaboy) with Craig Silverman, who filled the room past capacity. Calce used his experience as a cautionary tale, while describing the history of hacking and how it has helped make the internet the new frontier for crime in the 21st century, in his Keynote titled "How I Cracked the Internet and Why it's Still Broken."
IT360°, a unique event in Canada, expanded its reach by hosting two concurrent conferences within the event. The Asterisk & Open Telephony Conference, sponsored by Digium Inc. and the Toronto Asterisk User Group (TAUG), which brings together Asterisk and VoIP professionals, ran throughout the entire day of IT360°. The CIO Executive Council also hosted their Regional Meeting. Incorporating these additional agendas allowed more members of the IT community to come together. There were over 900 delegates at IT360° 2009.
Education continued to be top-priority at IT360° through the 30-session conference. Bruce Cole, president of Plum Communications Inc. and producer of IT360°, says, "This year our event was delivered in a one day format which exceeded our success expectations for both the delegates and exhibitors. Our live event format allowed for personal networking and face-to-face relationships to take place".
The trade show was a highly charged hands-on environment that featured high profile experts from leading vendor companies providing timely facts, future developments and live demonstrations.
"Our experience at IT360 exceeded our expectations in every quantifiable way. The team at Plum Communications have put together an excellent event that gave us the opportunity to make contact with 90 new business relationships in a single day! Save our booth space - we'll be back next year," said Jim Carroll, President, Carroll-Net.
"The new one day turnkey booth format was terrific and efficient. This year's IT360 was our highest ROI of any event we've invested in. I wish it was expanded across Canada!" said Paul Chan, President, Storageflex Inc.
"We thought the show was great. The ROI for Kaspersky should be exactly what we expected," said Kevin Krempulec, Vice President of Sales, Canada, Kaspersky Lab.
"We found the quantity and quality of attendees exceptional…we had two or three times as many leads [as other events] and some very good introductions with distributors," said Ethan Schroeder, CTO, Schmooze Communications.
David Whyte, the Canadian Telecommunications Consultant's Association's (CTCA) president said, "CTCA participation at IT360 reinforces the trend of telecom interweaving with IT at all layers and provided an excellent opportunity for industry participants to connect with the CTCA.
The full day event generated considerable attention and interest. Plum Communications, producer of IT360° Conference & Expo, plans to continue the momentum through to next year.
About IT360° Conference & Expo 2009:
IT360° Conference and Expo is an IT360 Inc. (http://www.it360.ca) event managed by Plum Communications working in partnership with ITWorld Canada addresses the critical issues facing the industry while providing realistic strategies to enable the implementation of the best and most cost efficient solutions. Plum Communications Inc. is a leading Canadian organizer of community-based IT events "Cultivating Innovation in Technology" since 1984 focusing on what companies are doing and how IT professionals are implementing new systems. http://www.it360.ca
For further information contact:
Stephanie Cole, Event Publicist, IT360, 905.695.0123 x211, steph (at) plumcom (dot) ca
###