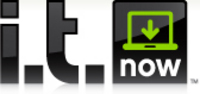 We remotely monitor these programs to ensure they're working properly and install regular updates, sometimes three to four times a day
Salt Lake City, UT (Vocus) June 4, 2010
i.t.NOW, a Utah-based information technology (I.T.) company, is helping businesses protect their computer networks from spyware and malware with its Threat Management services.
"These types of computer viruses are generally used to infect networks, illegally obtain a user's information and damage computers or hard drives, and are often found on suspicious Web sites, particularly pornography sites. Viruses and malware can disable your anti-virus program without your knowledge. Subscriptions can expire and stop updating. We remotely monitor these programs to ensure they're working properly and install regular updates, sometimes three to four times a day," said i.t.NOW CEO Phil Robinson.
i.t.NOW incorporates three levels of network protection: Domain Name System (DNS) filtering, resident malware software and resident anti-virus software. Clients can customize their level of Internet filtering, from blocking certain sites to complete filtering and monitoring down to what sites each user is visiting. "Web filtering is key, but we can't block it all. New sites are created daily, and filtering services are always in catch-up mode. If any malware does get through, we use a background program that constantly monitors for threats," says Robinson.
Robinson cited the recent story regarding pornography use at the Securities and Exchange Commission (SEC). Employees were reported to have spent many hours a day on pornography Web sites. One employee attempted to access these sites up to 16,000 times in one month. Another employee, after hundreds of attempts, used a flash drive to bypass a Google search filter to access these sites. Of the 31 employees cited, 17 were senior SEC officers.
"These SEC statistics are alarming. These sites are notorious for viruses, spyware and malware, and when they infect your computer or network, the result could be catastrophic. i.t.NOW's Threat Management and anti-virus services help secure your office's computer networks from spyware and malware, and filter these sites from Internet search engines. Pornography is one of the most popular Internet activities, and Utah averages the most pornography consumers per-capita. Make sure this doesn't happen at your workplace," said Robinson.
About i.t.NOW
i.t.NOW provides Utah I.T. support with professional I.T. services for small-to-medium sized businesses. Since 1992, hundreds of Utah companies have saved thousands of dollars by partnering with i.t.NOW to increase employee productivity, reduce down time and protect Utah computer networks. i.t.NOW allows business owners to focus on growing revenue instead of solving computer problems.
For more information on i.t.NOW call (801)562-8778, or visit http://www.itnow.net.
CONTACT:
Therese Clay
XO Marketing
(801)272-8686
###