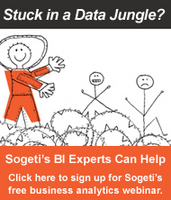 Most organizations have massive amounts of data—but it's scattered in multiple places, is not easily accessed and is not presented in a relevant, meaningful way. Sogeti has deep expertise helping clients overcome these challenges
Dayton, OH (Vocus) June 8, 2010
Sogeti, a leading international provider of professional IT services, announced today that it has hired Satya Sachdeva as the new Vice President of Business Intelligence and Information Management services.
Business Intelligence continues to be the top priority for CIOs today. Mike Pleiman, Executive Vice President for Sogeti USA continues, "Most organizations have massive amounts of data—but it's scattered in multiple places, is not easily accessed and is not presented in a relevant, meaningful way. Sogeti has deep expertise helping clients overcome these challenges. Satya's unique experience and passion in this area will be a great addition to helping us best serve our clients' needs."
Sachdeva brings over two decades of BI experience to Sogeti, specifically in data warehousing, operational data stores, data quality, data governance, master data management, metadata management, data mining and business intelligence. Sachdeva will be based in Chicago, but will work with clients nationwide.
"I am excited to be a part of the Sogeti team to help clients move to the next level of BI maturity," commented Sachdeva. "With its Local Touch—Global Reach business model, Sogeti is ideally poised to help clients realize the benefits of investments they have made over the years and deliver innovative BI solutions to help them reach their business goals."
To further help companies improve their Business Intelligence, Sogeti is also offering two other BI tools:

Sogeti plans to host a web event, "BI 2.0—Or How to Take Your Business Analytics Program to the Next Level" on June 22nd at 11:30 am CDT and June 24th at 1:00 pm CDT. During the presentation, we'll discuss best practices and tips for breathing new life and excitement into an existing BI program that may be stagnating, leveraging BI to make your business more agile and how to increase your overall BI funding. To register for this complimentary session, please visit: http://sogetibi.com/Webinar/General/
Sogeti is also offering a free e-copy of the book, The Performance Manager, which is filled with valuable insights and practical advice in Business Intelligence at: http://sogetibi.com/Book/General/
About Sogeti USA
Sogeti USA is a premier provider of information technology services to businesses and public-sector organizations. Operating in 23 U.S. locations, Sogeti's business model is built on providing customers with local accountability and vast delivery expertise. Sogeti is a leader in helping clients develop, implement and manage practical IT solutions to help run their business better. With over 40 years of experience, Sogeti offers a comprehensive portfolio of services including Engineering Services, Enterprise Microsoft Solutions, Enterprise Solutions Consulting, IBM and Open Solutions and Testing/Quality Assurance. For more, visit http://www.us.sogeti.com.
About Sogeti Group
Sogeti is a leading provider of professional technology services, specializing in Application Management, Infrastructure Management, High-Tech Engineering and Testing. Working closely with its clients, Sogeti enables them to leverage technological innovation and achieve maximum results. Sogeti brings together more than 20,000 professionals in 15 countries and is present in over 200 locations in Europe, the US and India. Sogeti is a wholly-owned subsidiary of Cap Gemini S.A., listed on the Paris Stock Exchange. For more information please visit http://www.sogeti.com.
# # #