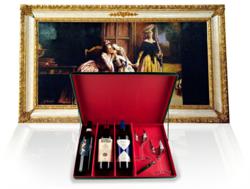 Italialicious delivers your unique gift choice anywhere in the world within 72 hours.
Pasadena, CA (PRWEB) December 11, 2011
The ITALIALICIOUS website is now online, and just in time for people Xmas Shopping! Let's discover what is this new concept all about.
A special event? The birthday of a dear friend living abroad? A client to endear? Choosing the right gift is an art that takes time and creativity, especially when it's for someone who lives far away.
This particular need has given birth to 'ITALIALICIOUS'.
Top quality Italian food and wines delivered in luxury handcrafted boxes. A unique selection of the best Pasta, Desserts, Sauces, Olive Oils and Luxury Wines linked to an express delivery service able to cover the globe within 72 hours from the moment you place your order.
Only a few clicks on the ITALIALICIOUS web site will let customers: select a box, choose the products, customize it with a message and ship it wanywhere the world! The only job by then, will be replying to the excited "thankyou" calls and emails from people who got the gift!
People who get an ITALIALICIOUS present will be so excited by the thought of how much care, time and love the sender spent looking for such original and unique gift. A present comfortably and easily purchased during the little time between business meetings or from the comfort of a couch just before going to bed.
This project was born to promote the best in quality Italian food and the ability to send it around the world through its efficient express delivery service! The ITALIALICIOUS adventure starts between the little village of Vetralla (30 miles from Rome) and Los Angeles, California, and is driven by the three founders: Valentino Bacocco, Stefania Mazzotta and Maureen McGillan-Sklar (wife of LEGENDARY bass player LELAND SKLAR), together with marketing director Giorgio Onorato Aquilani. It is quickly becoming a worldwide success.
"The website http://www.italialicious.com," explains CEO Valentino Bacocco "it works because it's intuitive and very simple to use. In fact, everybody can select and customize a gift box and send it anywhere around the globe in just three easy clicks!"
Getting the right present has never been easier and quicker than this!
Follow Italialicious on facebook and twitter to access special promo opportunities!
Italialicious: Think - Click – Enjoy
# # #