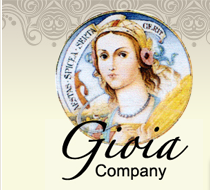 If I follow Gioia Company wherever they go, I know I will always have a great time
Los Gatos, CA (PRWEB) August 31, 2011
Gioia Italian Art is located in Los Gatos, but is literally everywhere. They will be joining the local community in celebration of Festa events. Gioia will share its celebration of Italian cultural events with the Arata Fine Art Gallery in North Beach San Francisco on September 2, with the San Francisco Italian Athletic Club in North Beach on September 10, and with the Italian Catholic Federation and Usuegi Farms in Morgan Hill on September 10 and 11. These events will be celebrated in honor of Italy's Ferragosto.
"If I follow Gioia Company wherever they go, I know I will always have a great time," said Jeff Maggard, Gioia client and friend.
Ferragosto is a national holiday celebrated in Italy and it is celebrated in the United States during the months of August and September. Gioia Italian Art celebrates the festa events to help people enjoy Italian food, Italian music, dance, song, and beautiful Italian products.
Geraldine Arata Pruett and John Pruett run the Arata Fine Art Gallery. They are located at 450 Columbus Ave. in North Beach. They celebrate the Italian Culture Wednesday through Sunday every week. Geri was born in the Mission District and her family hails from Genoa, Italy.
November 2009 saw the opening of Arata Fine Gallery to the delight of the North Beach natives, San Franciscans and tourists who enjoy Fine Artworks of local Master Artists. Arata Fine Art Gallery will be featuring Venetian Carnival themes during the Festa events. Geri is intrigued by the mystery and escape from the norm that Venetian Masks provide. Geri and John were married in New Orleans where Geri's masked figures can also be found in Studio 831 in New Orleans.
For more information about Gioia Italian Art, call (408) 640-6628 or visit http://www.gioiacompany.com. To find more about Arata Fine Gallery, visit them on the web at http://www.aratafineartgallery.com.
About Gioia Italian Art
Gioia Company works directly with dedicated Italian Artisans to bring you the finest Italian gifts in the Italian Tradition. These Italian Heritage Art pieces make unusual gifts for weddings, birthdays, anniversaries or other special occasions. They offer a unique Italian treasure for the home that will remind people of the sights, smells and experiences of Italy over and over again.
The Gioia shopping experience is available at select Italian Festivals, wineries, fine art galleries, and on the Internet. Each piece is professionally wrapped and carefully shipped to any destination.
About Arata Fine Art Gallery
Arata Fine Art Gallery features glass works, tiles, jewelry, tee shirts, cards and prints particular to North Beach, San Francisco and Italy themes. Geraldine has been instrumental in bringing art to life in North Beach by collaborating with other galleries to bring you the First Fridays Art Parties.
###