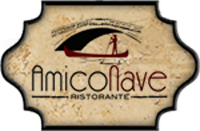 Amico Nave (Translation: "Friend of the Ship) is the sister restaurant to Shipwreck Grill
Bryan, TX (PRWEB) June 24, 2013
Amico Nave Ristorante, a family owned Italian restaurant in Bryan, Texas, announces that they will hold a special ribbon cutting celebration for its grand opening this past year. This ceremony will include a ribbon cutting with the B/CS Chamber of Commerce and will be held on Thursday, June 27 at 4:30 in the afternoon. The event will take place at Amico Nave Ristorante, which is located at 203 E. Villa Maria in Bryan, Texas.
Amico Nave (Translation: "Friend of the Ship) is the sister restaurant to Shipwreck Grill and is a tribute to the owners Step-Father, Tony Salvaggio, and his family who immigrated to the Bryan area from Sicily. Tony began teaching Wade Beckman, the owner, to cook Italian food at a young age and many of the recipes at Amico's are authentic to Tony's family. Wade and Mary Beckman were excited to get the opportunity to open a restaurant in Bryan that captures the Italian heritage of the community.
Amico Nave also recently launched their new and improved website at http://www.amiconave.com. This website was redesigned and created by AgniTEK, a nationally-recognized company for their expertise in helping organizations leverage technology to improve businesses. The newly renovated website features an online reservation module as well as high quality photos of the restaurant. To learn more about Amico Nave, visit their website today.
The owners of Amico Nave, Wade and Mary Beckman, are excited for the future with their new restaurant and website.