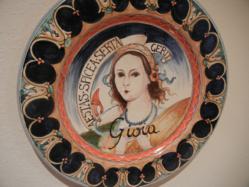 Please join us on May 30 for the opening of the Carla Almanza-deQuant Gallery, located at 346 E. Campbell Ave. in Campbell, as we celebrate Carla's ribbon cutting from 5 p.m. to 9 p.m. at her new storefront location
Los Gatos, CA (PRWEB) May 22, 2012
Gioia Company, a specialty online company that provides fine Italian art and unique Italian gifts to destinations near and far, is celebrating the company's and the owner's birthdays online with a 10-percent discount on purchases. All a customer needs to do to receive the discount is enter the word "gioia" at online checkout during May, June and July. In addition, Gioia Company would like to invite the community to a four-day celebration, from May 30 to June 2, for "Festa Gioia," a joyful party.
"Please join us on May 30 for the opening of the Carla Almanza-deQuant Gallery, located at 346 E. Campbell Ave. in Campbell, as we celebrate Carla's ribbon cutting from 5 p.m. to 9 p.m. at her new storefront location. The store will feature her Italian masks, sculpture artworks and those of Gioia Company," Kathy Winkelman of Gioia Company said.
Carla Almanza-deQuant is also the Gioia Company's current, featured artist. As an Italian mask maker and sculptor, Almanza-deQuant studied and perfected this art of the 16th and 17th centuries in Florence, Italy. Almanza-deQuant works closely with Winkelman and Lee Marie Michals to create custom artworks and teach Venetian Mask making classes with Gioia Company.
From May 31 to June 2, Gioia company is also hosting an open house, or "Festa Gioia," at its Los Gatos showroom. Gioia Company will be celebrating with a lunch and Italian shopping extravaganza from noon to 8 p.m. on each day. Abbondanza! Bring in this article for $25 toward purchases.
Gioia Company works directly with artists in the U.S. and Italy to offer the finest ceramics, flatware, linens, jewelry and statues at affordable prices. The products, which are made in the U.S. and Italy, support both economies. Because Gioia Company is a collection of artisans, it can offer custom work in Italian ceramics, Sorrento inlaid wood, paper mache sculpture, body sculpting, Venetian mask making, Murano glass jewelry making, and acrylic and oil painting.
The current Gioia Company is the realization of a promise made and a dream vision of a 21-year-old Katherine Brigantino living and studying in Rome, Italy.
"As a young girl, I knew that someday I would be working again with the Italian people," Winkelman said.
In 2005 Kathy (Brigantino) Winkelman and her business partner Lee Marie Michals created Gioia Company Italian Art and Products based on the idea of sharing the joy, "gioia," that the arts bring to the world by connecting with artists they already knew and bringing them into a marketplace they were very familiar with. The company supports the education of the Italian Heritage Arts and fundraising efforts for non-profits in Italian communities in Los Gatos and the surrounding areas.
For more information about the current promotions or any of Gioia Company's products or services, call 408-640-6628 or view the company on the Web at http://www.gioiacompany.com. Gioia Company is always open by appointment.
About Gioia Company
Gioia Company is a Los Gatos-based, specialty online company that provides fine Italian art and unique Italian gifts to destinations near and far. Founded in 2006, the company derives from a strong tradition of old world hospitality, time-honored craftsmanship and a passion for the Italian arts. Collecting only the most unique and astounding pieces, Gioia extends an array of artistic selections, such as Venetian masks, jewelry, sculptures, inlaid wood, Italian linens, laces, statuary, stones, kitchenwares and more.