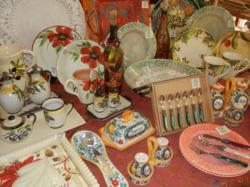 We want to provide our clients with quality gift giving options with fine art Italian products at affordable prices
San Francisco, CA (PRWEB) December 08, 2011
Gioia Italian Art and Products is a specialty online company, providing fine Italian art and unique Italian gifts to destinations near and far. Founded in 2006, the company derives from a strong tradition of old world hospitality, time-honored craftsmanship and a passion for the Italian art. With the holiday season rapidly approaching, Gioia Italian Art and Products have added various professional and personal gifts to its stock and have made these items available online through their website http://www.gioiacompany.com.
"We want to provide our clients with quality gift giving options with fine art Italian products at affordable prices," said Kathy Winkelman of Gioia Italian Art and Products. "And if you mention SF Gate to us when you order, you will receive a gift certificate for $25 to be used on your next purchase with Gioia Company Italian Art and Products. It is important for us to enjoy the giving. Our business model is 'Joy for Those Who Give and Those Who Receive.' There is great joy in giving especially when you are giving an item that is made with love and care by an Italian Artist or Italian American Artist."
Gioia Company has several gift ideas for this holiday season. They expect some of the most popular item to include Gold Leaf Wine Glasses, Venetian Murano Glass Bracelets, Sorrento Inlaid Wood, Ceramic Pizza Plates, Ceramic Coasters, Antiqued Wine Bottle Sculpture, Olive Oil, Artisan Glass Bowl and many more.
At Gioia Company, they pride themselves on the many hours spent researching Italian collectables, gifts and art to ensure they carry top-ranking pieces that remain at the top of their class. Each handcrafted Italian gift originates from a passionate artist who brings a love for their art and a desire to keep Italian artistic traditions alive to each piece. They wish to extend these timeless pieces to their nationwide clientele in efforts to bring a bit of Italian warmth into any home.
On December 8th from noon to 7:00 p.m., Gioia will bring Italian Gifts for sale to Arata Fine Art Gallery located at 450 Columbus Ave. in San Francisco.
For more information on Gioia Italian Art and Products, visit them online at http://www.gioiacompany.com or call 408-640-6628. Customers may also "like" them on Facebook. Search: Gioia Italian Art and Products. They are located online and in Los Gatos, California.
About Gioia Italian Art and Products
Gioia Company Italian Art and Products provide one-of-a-kind Italian gifts and art. Their selections are all handcrafted and made by family businesses or Italian artisans. They carry Italian jewelry, furniture, art, dinnerware and much more.
###