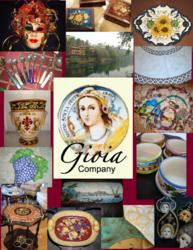 With a glass of wine or cup of tea, relax and enjoy the Italian shopping experience with Gioia Company Italian Gifts online's client appreciation sale
Los Gatos, CA (PRWEB) March 10, 2012
Customers may now take advantage of Gioia Italian Art and Products' already low prices on Italian jewelry, ceramics, flatware, inlaid wood from Sorrento, and Italian statuary and stone, with an additional discount by utilizing the code word "mask" through April 30.
"With a glass of wine or cup of tea, relax and enjoy the Italian shopping experience with Gioia Company Italian Gifts online's client appreciation sale by visiting http://www.gioiacompany.com and entering the word 'mask' at checkout," Kathy Winkelman of Gioia Company said.
Gioia Company's website offers products for all occasions, including weddings, birthdays and graduations, or items just for personal enjoyment. For all online transactions, Gioia Company promises to care for client purchases and treat the customers as if they are face-to-face.
"I received the mask yesterday afternoon, and it is lovely! It looks exactly like the photo and made me smile at how much time you took to package it so nicely. My friends and I had a wonderful New Year's--the mask was perfect, and I received many compliments that evening!" a customer from New Jersey said.
Enjoy Gioia's beautiful website by watching mask making videos, learning about artists, reading its blog, browsing through Italian gifts or following links to interesting information about Italian culture, recipes and products. Click on the link to Gioia's Facebook page to peruse wineries and events via its photo albums. Gioia Italian Art and Products appreciates its clients and invites everyone to join the family by liking Gioia on Facebook or sharing it on Pinterest.
"Everyone enjoyed their Christmas gifts from Gioia. So, we'll be back," said one customer from Santa Clara, Calif.
For more information about the promotional discount or any of Gioia Company's products or services, call 408-640-6628 or view the company on the web at http://www.gioiacompany.com. Gioia Company is always open by appointment.
About Gioia Company
Gioia Company is a Los Gatos based, specialty online company that provides fine Italian art and unique Italian gifts to destinations near and far. Founded in 2006, the company derives from a strong tradition of old world hospitality, time-honored craftsmanship and a passion for the Italian arts. Collecting only the most unique and astounding pieces, Gioia extends an array of artistic selections, such as Venetian masks, jewelry, sculptures, inlaid wood, Italian linens, laces, statuary, stones, kitchenwares and more.