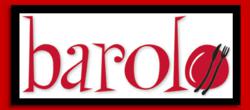 Chef Angelo Chambrone has added delicious piadene and cool, crisp salads to round out the menu of the Southern Italian-inspired and house-made pastas and other Calabrian specialties
Calistoga, CA (PRWEB) October 04, 2012
For six years, Barolo has been known as a dinner-only Napa Valley Italian restaurant. Now, the best restaurant in Napa is also serving the same great menu for lunch.
"Chef Angelo Chambrone has added delicious piadene and cool, crisp salads to round out the menu of the Southern Italian-inspired and house-made pastas and other Calabrian specialties," Mark Young of Barolo said.
Barolo opens at 11:30 a.m. from Tuesdays through Sundays for lunch and seven nights a week for dinner.
Whether seeking an authentic Italian meal or one of its reasonably priced, three-course dining options, Barolo is sure to leave anyone satisfied. Its team of culinary experts whip up nightly specials, as well as the regular, mouth-watering dishes that keep foodies coming back for more.
The staff at Barolo wants guests to relax as though they're dining in the comfort of their own home. Barolo offers private dining for large parties of every occasion, such as birthdays and engagements. With close proximity to Napa County's finest wineries, Barolo is the perfect evening stop after a relaxing day of wine tasting. Featuring its prominent Italian dishes in a comfortable setting, it's no wonder that many restaurant reviews have deemed Barolo one of the best restaurants in Napa Valley.
For more information about any of Barolo's products or services, call 707-341-6913, view the restaurant on the Web at http://www.barolocalistoga.com or visit 1457 Lincoln Ave. in Calistoga.
About Barolo
Barolo is a noteworthy Italian restaurant located in Calistoga. With convenient proximity to Napa County, it makes a perfect pair for visitors spending the weekend wine tasting or locals looking to enjoy one of the best restaurants around. It offers dinner and private dining with an exquisite local wine list. Check out some of its restaurant reviews for additional detail.