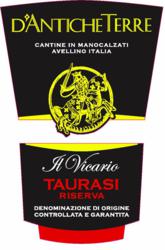 (Vocus/PRWEB) July 07, 2011
FARINA Focaccia & Cucina Italiana in San Francisco is delighted to welcome the boutique wines of d'Antiche Terre Winery to its restaurant at a very special dinner party. On Tuesday, July 12 FARINA will celebrate these heritage wines with a 6-course feast based on a menu designed by Executive Chef Paolo Laboa, with courses perfectly paired with fine d' Antiche Terre wines.
Located in Santa Paolina, Italy d'Antiche Terre has received a great deal of critical acclaim since its inception in 1989. In 1993 the winery produced its first 35,000 bottles that immediately began receiving critical acclaim.
Some of Italy's finest wines, both red and white, come from the province of Avellino, some thirty miles east of Naples. Three wines—one red and two white—define this territory and are the region's only wines awarded the DOCG designation.
The red is Taurasi, made primarily from the Aglianico grape, which yields a wine with firm tannins and good acidity with flavors of black cherry and chocolate. This is one of Italy's longest-lived reds and a few examples from the mid 1960s (especially those from Mastroberardino) are still drinking well.
The two cherished white wines from this region are Greco di Tufo and Fiano di Avellino. The first is made from the Greco grape and is named for the town of Tufo, one of the nine communes in which this wine can be produced. Tufo also refers to the local soil, a type of clay that is rough but breaks up quite easily. Full of calcium, this soil yields a nice minerality to the wine, which often has a light note of almond in the finish. Medium-bodied, Greco di Tufo features aromas of lemon, flowers such as acacia or lilacs and sometimes notes of green apple. The crisp acidity and light earthiness of this dry white make it a perfect accompaniment to most shellfish.
Fiano di Avellino is a slightly richer white wine with aromas of pear, yellow flowers, golden apples and a touch of honey. Fiano can be enjoyed just after release, though it is generally a more complex wine with 2-3 years of aging. While this also works well with most seafood, this is rich enough to pair with most poultry or even lighter pork preparations.
Winemaker Gaetano Ciccarella is impassioned by the winemaking traditions that began in this region of Italy over 2,000 years ago. The winery is proud of this tradition and passionate about producing superior wines for which this legendary region is identified.
The Wine Celebration dinner will be held at FARINA located at 3560 18th Street at Valencia in San Francisco on Tuesday, July 12th from 5:30 to 10 pm. The price is $120 per person.
The special gourmet Italian menu includes:
TENERO DI VITELLO TONNATO CON TRIFOLA ESTIVA FRITTO DI RETE
Fresh seafood floured and lightly fried
Paired with Falanghina Sannio
RIPIENO DI VERDURE CON CROSTACEI AL FIENO
Shellfish filled with seasoned vegetables
Paired with Fiano di Avellino
CARBONARA DI MARE
Gragnano's linguine served with a fish and seafood sauce carbonara style
Paired with Greco di Tufo
INTERMEZZO
Vegetable soup with smoked mozzarella
COSTOLETTE DI CERVO AL CARAMELLO DI TAURASI CON CILIEGE SELVATICHE
Venison cutlet served with Taurasi wine reduction and wild cherries
Paired with Taurasi Riserva
TORTA DI RICOTTA
Hand made ricotta cheese tart
Paired with Marsala
For reservations or more information, please call (415) 240-4824 or visit FARINA online at http://www.farina-foods.com.
About FARINA
FARINA is a San Francisco Italian restaurant that specializes in traditional Northern Italian, Ligurian cuisine. Grounded in tradition, FARINA is the antithesis of faddish here-today-gone-tomorrow hip food. From the chic yet functional design of the San Francisco Mission District restaurant to the homegrown recipes Chef Laboa learned at his grandmother's side to the infinite well of ideas that spring from its founders—FARINA is redefining Italian dining in San Francisco.
###