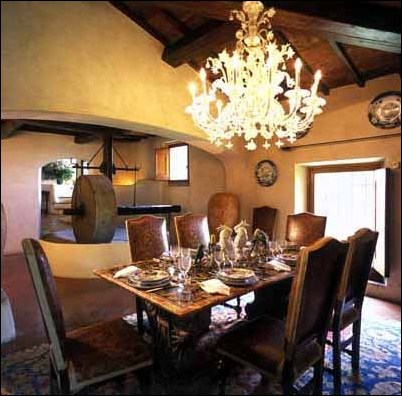 Our clients are Americans who have an appreciation for different cultures and different lifestyles
Scituate, Mass. (PRWEB) November 29, 2006
For those who have reached a certain level of success, renting a villa in Italy for the holidays is arguably the finest and most memorable gift one can give to family and friends. Filled with its rich tapestry of holiday traditions, sumptuous gourmet fare and fine wines, and an array of celebrations and harvest festivals, Italy's annual shining moment may well take place as each year draws to a close.
No one disputes the artistry that families can indulge in - from some of the world's finest museums, opera, ballet and world renowned restaurants, to shopping excursions that many consider to be pure nirvana - no other country delights the senses in quite the same way as Italy. Making the experience of Italy come to life for well-heeled, successful people is the passion of Mara Solomon, director of Homebase Abroad, the leading villa rental company specializing in extraordinary Italian vacation homes.
"Italy during the holidays is a truly magical place," said Solomon. "It's a remarkable gift when families come together to experience the wonder of a special time together in Tuscany, Umbria, Lake Como or along the Amalfi coast and islands. Whether it's a week or two, a month or more, this is something grandparents, parents and children remember and cherish all their lives. It is a joy to create experiences that become an indelible part of each family's history."
Solomon and her team of colleagues always add a touch of elegance, whether they are arranging morning delivery of bouquets of fresh flowers and international newspapers, or a private fireworks display for the family, meticulous attention to detail is the hallmark of their work. Solomon spends several months of each year working directly with homeowners in Tuscany, Umbria, Amalfi Coast, Lake Como and more.
Along with her partner, Solomon founded Homebase Abroad in 1994. Since then, the organization they formed has compiled a distinctive, exceptional portfolio of villas, farmhouses and private homes that are available for rent to discerning families. "Our clients are Americans who have an appreciation for different cultures and different lifestyles," said Solomon. "They find joy in experiencing the richness of other cultures and sharing those moments of incredible wonder and discovery with their family and friends."
According to Solomon, there is an enormous variety of holiday traditions in Italy, including a wide assortment of culinary delights. In northern Italy during the holidays, one can sample Crostini ai Fegatini di Pollo (liver paté on seasoned toast that is a delight to the palate); Faraona ed Uccellini Arrosto (roast Guinea hen and game birds), Siena's sweet Panforte (a mixture of honey, spices, candied fruit, and almonds) and all followed by gelato, sorbets and toasted almond ice cream.
Tuscany is known for producing some of the world's finest wines. Naturally, the Chianti region is not to be overlooked. For true wine connoisseurs, Solomon and her colleagues know the vineyards where superb wines can be sipped on a veranda with friendly people, overlooking seemingly endless rows of ancient vines. That's a rare occurrence for most of us, but for those who have earned it, this is one of those special times to be savored and remembered fondly.
"Our goal is to make each experience as meaningful and joyous as we can for every member of the family," said Solomon. That's especially true during the holidays because it is a time devoted to family and friends. Children's needs always receive special attention. Solomon loves to tell the holiday tale of 'Befana,' the old witch who flies over the skies of Italy and every year gets hopelessly lost. She leaves stockings filled with candies for all the children she visits. "The stockings also contain a rock candy called 'carbone dolce' that looks just like coal but are a favorite with the children."
A villa rental vacation in Italy during the holidays or any time of year should begin with Homebase Abroad's spectacular Web site. Click on http://www.homebaseabroad.com and the journey begins with splendid photos of a seemingly infinite variety of homes - rustic style, overlooking the seashore, stately suburban mansions, rural farmhouses and a castle or two - in the most desirable locations.
"One can and should expect the best holiday vacation ever," said Solomon. She admits that everyone in her organization is devoted to her clients' needs and is known for meticulous care in every facet of her company's services. The majority of the business stems from referrals by clients who speak of Homebase Abroad in glowing terms. All are impressed by the involvement of Solomon and her colleagues and their seemingly endless knowledge about the homes and the Italian culture.
"It's personal for me, as much as it is for my team and our clients," she explained. "We have a detailed conversation with each client, sometimes more than one, and we discuss the family members or the individuals in the group, what their interests are, their needs, desires and the homes that will best fill everyone's requirements. Most important of all is that we are personally available from start to finish. Our job is to make the holiday vacation a resounding success and memorable for everyone."
Among the villas available through Homebase Abroad are those that offer posh furnishings and amenities, including heated indoor pool, sauna and terraces with magnificent mountain vistas. That's really not unusual because these are the homes and second homes of relatively well-to-do Italian families, including some with royal titles and famous last names.
Solomon said that spending the holidays at a private estate in the Tuscan countryside, or on the outskirts of a city such as Florence, are perfect settings for a celebration of one's family and friends. Solomon personally visits with each homeowner and goes on a lengthy tour of every home in her company's portfolio. Her staff at Homebase Abroad can arrange for holiday decorations, including a Christmas tree with all the trimmings, personal ornaments for each family member or member of the group.
Week-long Italy holiday vacations through Homebase Abroad begin at about $18,000 for ten guests. The memories they share will be priceless.
To learn more about Homebase Abroad and to see photos from the company's portfolio of homes, readers should visit http://www.HomebaseAbroad.com.
About Homebase Abroad:
Based in Scituate, Mass., Homebase Abroad is an Italy villa rental company whose expert staff is recognized for the exceptional job they do in finding the meeting point between the Italian lifestyle and the demands of an affluent, well-traveled American clientele. In addition to matching travelers with Italy's most distinctive homes, the Homebase Abroad staff spends as much time as needed with each, individual guest to ensure planning is thorough and every question is answered. From private shopping excursions to Italian cooking lessons, they arrange a variety of activities designed to immerse travelers in the Italian lifestyle.
Contact:
Pam Wadler or Megan Allen
Trent & Company, Inc.
212-966-0024
###