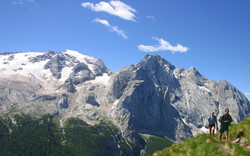 Ragusa, Sicily, Italy (PRWEB) January 30, 2009
For price-conscious travelers not willing to give up quality experiences and fine service, Italian Connection offers the new "Simply Italian" option where guests save up to $400 USD on walking tours in Sicily, Piedmont, Tuscany and the Amalfi Coast. By staying in simpler hotels or local B&Bs, guests still enjoy all the features of a classic Italian Connection tour but at a very friendly price. Travelers will taste the finest white truffles in Alba, hike to a hidden grotto decorated with 7,000 year old paintings in western Sicily, dine in an Italian grandmother's home in Tuscany, and enjoy a private lunch along the spectacular "path of the Gods" on the Amalfi Coast.
The Simply Italian option is available on the following walking tours: Western Sicily & Egadi Islands May 6-11, Amalfi Coast & Capri May 17-21 and September 28 - October 2, Tuscany Hilltowns May 19-24 and Piedmont Vineyards & Lakes June 19-25 and October 9-15. Tours are 5 to 7 days, with 5 to 10 miles daily walking and have no more than 13 people in a tour. Prices with the savings start at $2695 per person based on double occupancy and include accommodations, guided walks, most meals, excellent wines and unique insider experiences.
Italian Connection is an Italy-based tour operator whose top local guides take you behind the scene on hand-crafted walking, cooking and cultural tours to less explored areas in the Dolomites (in the northeastern Italian Alps), Piedmont, Tuscany, Cinque Terre of the Italian Riviera, Umbria, the Amalfi Coast, and Sicily. Small groups of participants cook alongside noted cookbook author Eleonora Consoli in her home kitchen, meet celebrated chef Ciccio Sultano in Sicily and dine at his 2-star Michelin restaurant "Il Duomo," make bread from the hard wheat flour grown on tiny organic farms, pick wild herbs and plants that flavor the day's lunch, and make hand-rolled pasta in La Maremma where some villagers never heard of their neighbor George Clooney. Visitors meet colorful personalities including an authority on Alpine wildflowers, the owner of Italy's only cashmere goat farm and a village woman who blazes walking trails on an island with no roads. Twenty-nine land-only tours are offered through the year, including the Splendors of Sicily, named by National Geographic Traveler as one of its 2006 "50 Tours of a Lifetime." Four walking levels range from "stroll" to "fitness" which can burn up to 1,500 calories a day! Private custom tours can also be arranged.
For more information and reservations, call Italian Connection at 1-800-462-7911 or visit http://www.italian-connection.com.
# # #