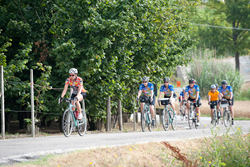 For beginners and families to advanced riders, from foodies to wine-lovers, for history buffs to Italophiles, we have something for everyone.
Arlington, MA (PRWEB) June 26, 2014
Fall is the best season to cycle in Italy. With cool sea breezes, perfect riding weather and the harvest season in full bloom, cyclists are sure to have an unforgettable experience pedaling through olive groves and charming hilltop towns. Ciclismo Classico, the leader in Italy cycling tours, is excited to announce a collection of fall offerings, ranging from leisurely rides through Puglia, to more challenging routes in Western Liguria and epicurean holidays in Piedmont. For more information on fall cycling tours in Italy or other bike tours in Europe, call 1.800.866.7314 or visit http://www.ciclismoclassico.com/.
"For beginners and families to advanced riders, from foodies to wine-lovers, for history buffs to Italophiles, we have something for everyone," said Ciclismo Classico Founder/CEO Lauren Hefferon. "All of our guides are native to Italy, or have lived there long enough to embrace the culture and become true Italians. Their knowledge and expertise is unparalleled."
The La Bella Sicilia bike tour of Sicily travels the island to areas overlooked by tourists. Riders begin in the ceramic town of Caltagirone, then via olive groves and tiny mountain villages, ride toward Ibla and follow the route to Siracusa, a Greek town filled with archaeological treasures. This active adventure includes a hike up Mt. Etna, the highest volcano in Europe. The tour reaches its apex on the dreamy, volcanic Aeolian Islands, each with its own distinct character and charm.
Another great tour, La Bella Puglia, starts at the UNESCO World Heritage Site and Baroque capital of the Salento area in Lecce. From here riders pedal south and discover the famous wine region of the "Salice Salentino." Quiet roads dotted with fig trees, blooming cacti and giant olive trees offer a wonderfully scenic Puglia cycling experience. Guest sample local favorites like homemade orecchiette and grilled calamari pulled fresh from the sea. This entry-level bicycle trip is an ideal introduction to the irresistible Basilicata and Puglia regions.
Pedaling through Western Liguria takes cyclists west of Cinque Terre and Genova to explore the gorgeous Riviera delle Palme (Palms Riviera) and Riviera dei Fiori (Flowers Riviera), major destinations for Italian and European tourists since the early 1950's. This unique region is a beautiful maze of fortified medieval villages and small fishing towns with strong connections to the north and Piedmont and deep traditions of sailing, fishing, and trading through the Mediterranean Sea.
Ciclismo Classico's long-running bike tour of Piedmont unveils a region that has achieved the status of gastronomic perfection. Considered to be Italy's greatest wine region, the vineyard centers of Gavi, Acqui Terme, Alba, lower Monferrato (UNESCO World Heritage Site) and Turin serve as the focal points of the tour. With great wine comes a blend of Northern Italian and French cuisine with truffles and mushrooms as seasonal key players. In the fall, the tour may coincide with one of the "Fiere del Tartufo," the International Truffle Fair, which attracts countless gourmands and high caliber chefs to the fairy tale town of Alba, Moncalvo or Acqui Terme.
About Ciclismo Classico: Join a Ciclismo Classico tour and you'll soon find yourself "Pedaling your Passion," a uniquely Italian approach to bicycle travel that embraces La Dolce Vita at every turn and invites you to find your very special passion on every tour. Whether it's soaking in the scenery, learning to make pasta, taking hundreds of photos or learning about Renaissance architecture, you'll re-connect with your own passion with our special native guides who connect you to the culture and landscape like no one else can. Ciclismo Classico transforms a European cycling trip into an eye-opening, life-altering adventure you'll never forget. Come ignite Your Passion and pedal with us!