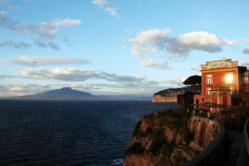 Moonachie, NJ (PRWEB) August 27, 2012
Central Holidays, a leading tour operator to Italy and the Mediterranean, is unveiling their Departure of the Month for August, which is the Amalfi Coast. To honor this announcement, Central Holidays is offering customers an Italy vacation package to the Amalfi Coast for 6 nights with round-trip airfare included, all from a low price of $1899. This Italy vacation deal includes 6 nights at the First Class Hotel Villa Romana in Minori on the Amalfi Coast, and is also loaded with value-added features, such as breakfast and dinner daily, including a pizza party, a cooking demonstration by the hotel chef, a walking tour of Minori with a visit to a limoncello factory, an excursion to Amalfi and Ravello, an excursion to Sorrento, Pompeii and Positano, which includes lunch in Sorrento, an excursion to Capri, a full day trip to Paestum and a visit to a buffalo mozzarella factory in the area, plus arrival & departure transfers from Rome Airport.
On this 8-day/6-night Italy vacation deal, visitors will enjoy all that the Amalfi Coast has to offer and realize why it is such a popular destination, which includes the stay in Minori, a small town located along the Amalfi Coast, a short distance from the villages of Ravello and Amalfi, where visitors will discover that it was here that one of Italy's most popular dishes, pasta, was created.
During the six night stay at the Hotel Villa Romana in Minori, visitors will be able to take advantage of the many included sightseeing tours and excursions that are included in this package, such as a walking tour of the town with a visit to a limoncello factory and a chef-lead cooking demonstration. There will also be day trips to Amalfi, Ravello, Sorrento, Pompeii, Positano, and Capri as well as Paestum with a visit to a local buffalo mozzarella factory.
This program also includes international air travel from NYC to Rome on Alitalia Airlines (call for information on alternate airports, gateways or airlines: 800-935-5000), transfers to and from the Amalfi Coast, breakfast and dinner daily, plus an authentic Italian pizza party and all of the bonus excursions to experience this fascinating area of Italy.
It's an amazing vacation showcasing the Amalfi Coast's awe inspiring vistas and seascapes, food and wine, cultural traditions, and welcoming warmth that satiates the senses at every turn.
About Central Holidays:
Europe vacation packages, Europe vacation deals, Greece vacations, and Italy vacations: founded in 1972, Central Holidays offers superior travel programs, value and service to enchanting destinations throughout Italy, Spain, Portugal, France, Greece and Turkey, plus dozens of Mediterranean and European River Cruise itineraries and worldwide Ski programs! For more information, contact Central Holidays at 1-800-539-7098 or visit their website at centralholidays.com.
Contact:
Anthony Berardo
Berardo Marketing Group, LLC
201-970-7698
bmg-website.com
# # #