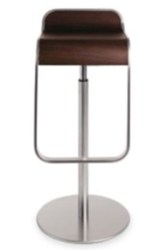 "One of the most captivating additions is the Mikado Radix table by Reflex Angelo, renowned world wide for their highly artistic designs and exceptional quality" – italydesign.com
Emeryville,Calif (PRWEB) August 05, 2013
italydesign.com announces the arrival of many new designs from their 2013 Milan Fair collection from this year's Milan Furniture Fair
italydesign.com located in the San Francisco bay area, is one of the country's leading resources for Modern Luxury Design Furniture and offers Italy's most prestigious brands.
italydesign.com is proud to announce the arrival of many exciting new designs from their new 2013 collection from Italy's top Luxury Furniture producers.
italydesign.com has just received a new version of the Lem stool by Lapalma with black lacquered frame and Canaletto Walnut seat. This new version add a new design option to the iconic offering to the Lem Stool family .
italydesign.com has received the exciting new Guitar Bar, produced in the shape of a contrabass. The upper part has an ebony surface with an edging in rosewood. The cherry wood central portion is raised with brass "strings" and the end section is speckled with mother-of-pearl. The Guitar Bar is artful and sculptural and when the top doors are opened is a functional bar with Led lights.
italydesign.com will be receiving new additions of their Tonino Lamborghini Casa Collection, produced by Formitalia Group Spa, including the sculptural Imola S Sofa,, Rugs with their iconic bull logo and the automotive inspired Daytona floor lamp.
"One of the most captivating additions is the Mikado Radix table by Reflex Angelo, renowned world wide for their highly artistic designs and exceptional quality" – italydesign.com
The Mikado table features a Caneletto Walnut top and architectural base .
italydesign.com has received the new Action sofa / sectional from Il Loft, designed by Bestetti Associates, introduces a new technology combining luxurious comfort with numerous configuration options.
Their new collection can be viewed at http://www.italydesign.com
italydesign.com has created a highly original, hand selected offering of Italy's most interesting modern furniture collections. Their artistic and diverse collection is complemented by their 5 Star quality customer service which is reflected in their A+ rating with the Better Business Bureau and their numerous customer reviews from satisfied clients.
italydesign.com is located in the San Francisco Bay Area and displays their unique of collection of architecturally designed Luxury Furniture in their 25,000 square foot facility.
Media Contact:
italydesign.com
1-510-420-0383
1290 Powell Street
Emeryville, CA USA 94608
info(at)italydesign(dot)com