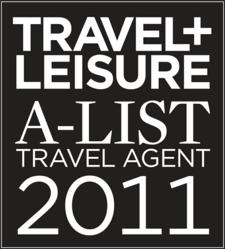 It will be the year of women's experiences and family travel
New York, NY (PRWEB) September 27, 2011
For the tenth consecutive year Andrea Sertoli, President of Select Italy, has made Travel & Leisure magazine's a-list of world's top travel agents 2011. T+L evaluated thousands of agents to come up with this highly selective list of the best in the business.
In the ever changing and complex travel landscape an expert guide can make all the difference in your travel planning experience – from getting the best rates to finding the perfect destination for your next trip. T+L's tenth annual 2011 A-List of Top Travel Agents is available on newsstands in October and on the magazine's website.
Roman-born Sertoli founded Select Italy in 1997 out of the desire to offer a specialized, custom-oriented travel service with the ability to create state-of-the-art tours and itineraries. New discoveries are routinely added to the company's portfolio – but are never routine. Thanks to its vast network of suppliers and cultural contacts and adherence to the highest standards of professionalism, Select Italy has established itself as the ultimate source for travel to Italy.
"We're more committed than ever to bringing the best that Italy has to offer to discerning travelers," says Sertoli, at the helm of an expert travel staff, along with a website – http://www.selectitaly.com -- that offers the industry's widest selection of vacation options for the Italy-bound traveler. Select Italy capably crafts the perfect trip, steering its varied clientele to the most enjoyable Italian vacation possible.
In previous years, Sertoli has proffered Dream Trips and top tips along with his A-List agent designation. This year he suggested the small island of Ponza, just west of Rome but still untouched by mass tourism.
But what else is in store? "It will be the year of women's experiences and family travel," Sertoli says. "The focus will be on enhancing the travelers experiences: woman-empowering wineries in Tuscany, innovative cooking courses in Sicily, the educational Amazing Family Tours and much, much more." Details can be found on http://www.selectitaly.com.
About Select Italy
Select Italy is the ultimate source for travel to Italy and offers a wide array of superior Italian products and services, including customized itineraries, state-of-the-art tours and packages, wedding/honeymoon trips, unique culinary classes, a complete pre-departure ticketing service for museums and musical events, private guided services, yacht charters, transportation, hotel reservations, villa bookings and more. In 2010, Select Italy opened a full-service branch in Shanghai, China. For more information call (800) 877-1755 or visit http://www.selectitaly.com.
About Travel + Leisure
With an eye for the authentic, the innovative and the irresistible, Travel + Leisure fuses expert reporting on culture, food, style and design with stunning photography, transporting readers to the places—and the travel experiences—that matter now. T+L, the monthly title from American Express Publishing and the long-standing authority in its field, has the largest audience of any travel magazine and it is an indispensable guide for global nomads.
###