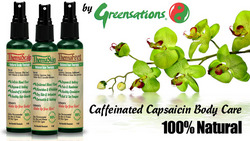 Mother nature's own hot peppers can stop itching within minutes by deactivating the Itch Gene.
Schenectady, NY (PRWEB) December 22, 2009
It's estimated that more than 30 Million Americans suffer from chronic itching related to autoimmune diseases and topical disorders including: dermatitis, eczema, psoriasis and acne. The recent discovery of an "Itch Gene" has given scientists a new avenue to stop the itching cycle that makes most of these chronic skin conditions impossible to cure. It turns out this newly discovered gene reacts to nature's own hot peppers via an extract known as capsaicin, and a new line of pepper body sprays claims to stop the "Itch Gene" dead in its tracks. Greensations® brand body sprays use natural capsaicin to stop itching in less than a minute without any burn and the manufacturer guarantees it.
"Capsaicin creams have been around for years and they work to fight pain, but they are too strong for most people because they also cause a burning sensation in large doses. Large doses are fine for people who suffer from arthritis pain, but for itching they're just too strong. Greensations sprays are formulated with small doses of capsaicin combined with caffeine and other herbals to create a pathway that deactivates itch receptors without burning. The result stops itching in minutes and the relief lasts for hours. In most cases itching is stopped in less than one minute, whether it's from dermatitis or bug bites," says Niles Porter, Director of Sales for Greensations.
In 2007, the "Itch Gene" known as Gastrin-Releasing Peptide Receptor (GRPR) was discovered, but since other peptide receptors have also been known to cause pain, researchers weren't sure if GRPR was solely related to itching until a recent study. Earlier this year, Washington University School of Medicine in St. Louis and Peking University Hospital in Beijing, conducted a study verifying that GRPR is solely related to itching. In the study, researchers destroyed nerve cells in mice that had active GRPR using a toxin that binds with the gene. Then they injected the spinal cords of the mice with compounds that caused pain and itching. When the mice were exposed to compounds that caused itching they did not respond or scratch, but when they were injected with ones that caused pain, they immediately reacted. The results proved that GRPR specifically controls itching via the central nervous system.
"This finding has very important therapeutic implications. This is a very striking and unexpected result because it suggests there is an itch-specific neuronal pathway in the spinal cord. We've shown that these GRPR neurons are important for itching sensation and not for pain, but we really don't know much more about them. We still have a lot of questions and we are very interested to find more answers," Washington University's Zhou-Feng Chen, who led the study, said in an official statement.
Since the early 1990s, researchers have known that peptide receptors react to capsaicin, but until now it has only been used to alleviate pain. With this new scientific information, modern medicine is finally able to target itching by isolating it from pain receptors. According to researchers, targeting GRPR nerve receptors makes it possible to abolish topical symptomatic itching and irritation forever.
"Unlike the pain receptors that require large doses of capsaicin for deactivation, itch receptors respond to tiny doses. By mixing capsaicin with caffeine, Greensations pepper sprays are able to effectively penetrate the skin and trigger itch receptors to essentially switch off the action of GRPR. They switch off the itch. It may sound like science fiction, but our pepper skin sprays stop any itch instantly. They also increase topical blood flow and moisture absorption to condition the skin and promote healing," says Wayne Perry, Developer of Greensations body sprays.
While steroids and other medicines can mask the symptoms of itching, capsaicin actually turns off the itch, but according to Perry - caffeine is the key.
"The caffeine creates permeability through the skin surface and blood vessels, allowing tiny doses of capsaicin to move straight to the nerve endings. This triggers an instant anti-itch response that lasts up to 12 hours".
GSC Products presently manufactures three Greensations caffeinated capsaicin skin sprays under the names ThermaSkin, ThermaScalp and ThermaFeet. The company guarantees each product will stop itching and irritation in less than a minute for most users. In addition, Greensations body sprays use Alpha Lipoic Acid, Vitamin C, Vegetable Glycerin and other herbals to soften skin, reduce dryness and fight topical irritation.
A recent article posted on TruthInAging.com reviewed the Greensations ThermaSkin product. The skin care review website referred to ThermaSkin as the potential "Holy Grail for itchy skin relief". Moreover, bloggers are already singing the praises of Greensations pepper body sprays all over the web. There's no doubt Perry's latest capsaicin invention has produced yet another breakthrough.
"The response has been incredible since we've launched these products. By stopping the dreaded itch and scratch cycle, our customers are finally able to get their chronic dermatological conditions under control. We've also been hearing from people who say our body sprays have relieved other skin conditions including rosacea, acne and fungal infections such as Tinea Versicolor," adds Niles Porter.
For more information, visit Greensations on the web or look for their products in retailers everywhere. Free samples for verifiable media and medical personnel are available upon request.
###