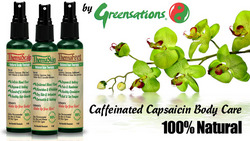 These are the world's first skin sprays to combine capsaicin and caffeine for fast itch relief.
Schenectady, NY (PRWEB) November 5, 2009
It's estimated that more than 30 million Americans suffer from chronic itching related to a variety of skin and scalp conditions including: dermatitis, eczema, psoriasis, dandruff and dry skin. For people with chronic skin and scalp problems, itching creates a cycle that becomes both a cause and a symptom. The more people itch, the more they scratch and the worse their conditions become.
Many studies show that Capsaicin, a natural extract from hot peppers, can relieve topical itching and irritation by desensitizing nerve fibers and receptors within the epidermis. Although most studies have been done with high strength capsaicin creams designed for pain relief, a new line of products from Greensations delivers low doses of capsaicin in a fine mist without the burning sensation associated with creams. Since the dose is small and the particles are atomized into tiny molecules, these capsaicin skin sprays create instant topical absorption without uncomfortable side effects.
"Our capsaicin body sprays create super absorption to promote healthy pores and follicles. By delivering capsaicin in an atomized spray, we only need tiny doses to relieve itching and irritation fast. There's no uncomfortable burning with our body sprays like there is with the more potent capsaicin creams. Our sprays stop any itch in under a minute - Guaranteed," says Niles Porter, Director of Sales for Greensations.
Greensations body sprays also contain caffeine, which has been shown to kill abnormal skin cells while promoting healthy new cell growth. Although caffeine is not good for the skin when consumed orally in large doses, the positive results from topical application are undisputed. Both caffeine and capsaicin have been shown to increase blood flow and absorption when applied topically, and these new skin sprays are the first products to combine both ingredients.
ThermaScalp and ThermaSkin are first in a line of new products from Greensations®. Both body sprays directly target topical itching and inflammation while promoting healing for a variety of skin and scalp conditions. According to the manufacturer, these caffeinated capsaicin body sprays are guaranteed to stop topical itching and irritation in less than 60 seconds.
Along with caffeine and capsaicin, these innovative body sprays also incorporate other herbals proven to promote skin cell regeneration and follicle health. ThermaScalp is formulated with Saw Palmetto, Pygeum, Nettle and Olive Leaf, while the ThermaSkin formula uses Green Tea, Yuzu, Kola Nut, Cucumber and Witch Hazel. Both products are all natural, and they also feature Alpha Lipoic Acid, a natural antioxidant that neutralizes harmful chemicals and free radicals that harm the skin.
On their website, Greensations guarantees each of their formulas will stop any itch in under a minute, and the company is offering a challenge to any product reviewer who wants to put their new body sprays to the "Itch Test". Free review samples are available for qualified media and medical personnel upon request. ThermaScalp & ThermaSkin can be found at select retailers and at the company's official website, http://www.Greensations.com.
# # #