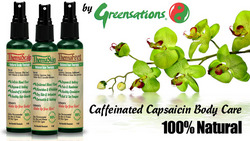 Continuous application of ThermaSkin could feasibly be the holy grail for itchy skin conditions
Schenectady, NY (PRWEB) December 13, 2009
Known as the premier website for reviewing personal care and beauty products, TruthInAging is run by a no-nonsense staff of reviewers who put every product through rigid real world tests. After weeks of testing the world's first skin spray to use a combination of caffeine and capsaicin to increase blood flow and promote fast topical healing, TruthInAging has given the new Greensations brand ThermaSkin product a solid thumbs up.
"The reviewer really put ThermaSkin to the test. First as a moisturizing toner for the face and secondly as an itch and inflammation fighter for irritated skin. She used our skin spray as directed and proved that our claims are real. ThermaSkin really works and it works fast with no added chemicals," says Niles Porter, Director of Sales for Greensations.
Studies show capsaicin and caffeine can both reduce itching and irritation, but ThermaSkin is the first product to combine both ingredients in an atomized skin spray. The new ThermaSkin capsaicin body spray also contains Yuzu oil, Cucumber water, Green Tea, Vitamin C, Rosemary extract, Alpha Lipoic Acid and Witch Hazel in a distilled water base. The formula is guaranteed by the manufacturer to stop itching and irritation in under a minute, as well as moisturizing and conditioning skin with no oily residue.
"A spritz of ThermaSkin instantly drew blood bubbles to the surface, and my discomfort abated within seconds. I have no reason to think that skin tormented by a rash, bite, or severe dermatitis wouldn't enjoy similar relief. In fact, continuous application of ThermaSkin could feasibly be the holy grail for itchy skin conditions," the reviewer wrote on the TruthInAging website.
ThermaSkin generates a gentle warming sensation that extinguishes the urge to itch almost instantly, and it effectively extinguishes topical pain while moisturizing and toning the skin. By boosting blood flow and circulation, the thermal action triggers nerve receptors to promote the healing process naturally as it tightens lines and wrinkles.
More than 30 million Americans deal with a variety of conditions that cause chronic itching and irritation including eczema, psoriasis, dermatitis, bug bites, rashes and dry winter skin. Thanks to the world's first caffeinated capsaicin skin spray, there may finally be a cure for topical itching and irritation, and it comes from nature's own hot peppers.
"While large doses of capsaicin can act as an irritant, small almost homeopathic doses actually desensitize nerve endings to relieve pain and inflammation fast. It's amazing stuff. When you combine it with natural caffeine, the results are even more incredible," adds Porter.
For more information, visit the official Greensations website. Free samples are available for qualified medical and media personnel upon request.
# # #