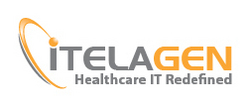 By advancing healthcare IT and EMR adoption, the American healthcare system can save untold effort and literally billions of dollars
Saint Charles, IL (Vocus) March 10, 2009
Jersey City, N.J. March 10, 2009-- ITelagen, Inc., innovative provider of one-stop, flat-fee healthcare information technology (IT) and support, today advised physician practices to move quickly on implementing HIPAA-compliant electronic medical records (EMR) to ensure the maximum federal reimbursement under the Obama administration's recently signed stimulus package. A key component of President Obama's plans for both healthcare reform and economic recovery, the Health Information Technology for Economic and Clinical Health (HITECH) Act, is an initiative to move the entire nation to EMR. Nearly $17 billion in front-loaded physician incentives are scheduled to be dispersed on a declining scale over five years.
"According to most estimates," explains ITelagen CEO John O'Keefe, "Physicians who implement EMRs can expect to see between $44 and $64 thousand in incentives over five years. But they need to act quickly. The longer they wait the more money they leave on the proverbial table. It's also critical that physicians understand that to receive these incentives - and to avoid future penalties - they'll need to be fully HIPAA-compliant, which most EMR solutions on their own are not. By partnering with ITelagen, physicians can move forward with confidence, since by their very nature, our solutions are fully in line with HIPAA: CCHIT-certified EMRs, SAS-70 hosting and SysTrust compliant support. One thing is clear: the time to act is now"
ITelagen has been assisting healthcare providers to implement EMRs easily and cost effectively for years, delivering peace of mind by handling all facets of implementation, hosting and ongoing support for a flat fee or fixed percentage. ITelagen is well positioned to help doctors ensure they're receiving the maximum funding from the stimulus package.
"By advancing healthcare IT and EMR adoption, the American healthcare system can save untold effort and literally billions of dollars," adds O'Keefe. "The problem is, healthcare providers aren't in the IT business, nor should they be. That's where we come in as the healthcare industry's One Stop Shop for EMR™. ITelagen makes it easy and affordable for practices to reap the benefits of healthcare IT now, and to ensure they receive the maximum available HITECH funds for doing so."
About ITelagen, Inc.
ITelagen (http://www.itelagen.com) brings electronic medical records, practice management and claims management solutions to small- and medium-sized medical practices. ITelagen's subscription-based service includes hosting and management of EMR applications and proactive onsite and remote IT support for all aspects of a practice's computers, network and staff. ITelagen offers solutions for practices of any size and specialty, and tailors every implementation to the unique needs and budget of each client. For more information, please visit ITelagen on the Web at http://www.itelagen.com.
CONTACT:
Beverly Bartley
Vice President of Communications
Martopia
Media Representative for ITelagen
404.327.9051
###