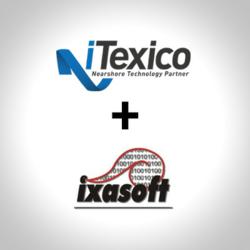 Being part of iTexico is a great chance for us to expand our reach to international markets and continue to build and deliver world-class mobile applications for an even larger amount of customers. – Victor Medina. COO of Ixasoft
Austin, TX (PRWEB) January 10, 2013
iTexico, a fast-growing mobile and technology solutions company, today announced it has completed a talent acquisition of the mobility division from Ixasoft, a mobile development start-up in Guadalajara, Mexico. As a result of this acquisition, a significant group of talented mobile and web developers will be joining iTexico at their software solutions center in Guadalajara.
"We're very pleased to have former members of Ixasoft join us into our mission of providing leading edge mobile and web software solutions to all of our customers. With the help of their talent and inspiring entrepreneurial spirit, we look forward to do great things in the near future." said Anurag Kumar, CEO of iTexico. "It's a great pleasure to have talented mexican technology entrepreneurs joining our existing team in Guadalajara. With professionals like them we're strengthening our position as a top quality software development company mobile and web solutions that our customers love," said Guillermo Ortega, COO of iTexico.
For the mobility team at Ixasoft, this is a valuable opportunity to become part of a larger initiative in providing the best software solutions in the web and mobile applications market. "Being part of iTexico is a great opportunity for us to expand our reach to international markets and continue to build and deliver world-class mobile applications for an even larger amount of customers. We look forward to providing the talent and experience of our team to play a major strategic role in the future of iTexico," said Victor Medina, COO of Ixasoft.
About iTexico
iTexico is a fast-growing Austin based company with offices in Silicon Valley and a software delivery center in Mexico that helps technology and publishing companies bring their solutions to market faster at lower costs and high quality. The company does this by providing world class cross platform mobile development, outsourced software services, extended teams and world-class training courses. iTexico currently serves a large number of clients across the US and employs highly experienced professionals in a delivery center located in Guadalajara, Mexico. iTexico leads cross-platform mobile solutions with a team of over 17 certified professionals in Titanium by Appcelerator and many experts in native development. Please visit http://www.itexico.com.
About Ixasoft
Ixasoft is a tech startup based in Guadalajara Mexico, founded in 2010 by talented university students of computer science. They focus on mobile application development services and social media strategy through mobile and web solutions.