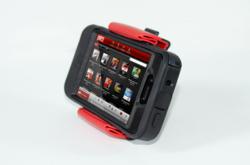 Long Branch, NJ (PRWEB) February 26, 2013
We all understand how frustrating it can be having to hold a phone while trying to get other things done, but the new itFits smartphone accessory's patent-pending technology gives users an extra set of hands to cook, work, drive, multitask and more.
itFits' thermoplastic, rubber arms flex to fit around almost every smartphone, creating more opportunities for users to stand, recline and hook their smartphones just about anywhere. Here are the top 10 ways to use the new smartphone accessory:
1. Stand your phone up on the kitchen counter to reference recipes while cooking
2. Turn smartphones into an alarm clock, and prop your phone to landscape mode on a nightstand
3. Hold a smartphone in portrait mode while Skyping for FaceTiming with friends or family
4. Monitor emails and messages on your desk
5. Use your phone as a camera tripod, and avoid having to ask an innocent bystander to take a group photo
6. Watch movies during a flight by propping your smartphone up on a tray table
7. Hook your phone to a car's sun visor, and use your smartphone as a hands-free GPS
8. Attach your phone to the back of a car seat, so kids can stay entertained and watch a movies during a long drive
9. Snap your phone to a child's stroller and keep them entertained for hours
10. Clip your phone to a computer monitor and have a second screen to reference calendars or send text messages
Smartphones have become an important part of our daily lives, and itFits allows smartphone owners to create brand new opportunities to use their device in ways that were previously difficult or impossible.
For more information on itFits, visit http://bit.ly/itFitsKS before the end of its crowdfunding campaign on March 6 at 3:57pm EST.
About itFits
itFits is a new startup dedicated to making your life easier with tech accessories. Their latest product, itFits, is a smartphone accessory which serves as a stand, recliner and hook for almost any phone on the market today. For more information on itFits, visit http://www.itfitsyourlife.com, Like them on Facebook at http://www.facebook.com/itfitsyourlife and Follow them on Twitter at http://www.twitter.com/itfitsyou.