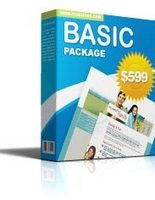 Once a business makes a selection from our list of web templates, we then customize the design with company colors, add the company logo, and format text for placement on each web page to make sure that your website is unique
New York, NY (PRWEB) July 17, 2009
IT Graphix is an affordable web design company in Thailand specializing in custom production of web design for small business. IT Graphix is pleased to announce the new basic web design packages starting at $599. These packages are great for any businesses wanting a simple, smart and quick web presence with very low load time, and without spending much money.
Basic web design package offers the same professional presentation as other custom web design packages, but at a greater savings to the small business web design, family web sites or non-profit organization.
Businesses seeking an affordable start-up website option can choose from one of pre-designed static HTML packages, which include one submission to the top search engines.
IT Graphix's basic web design package consist of pre-designed web page templates designed by professional web designers. Each template is ready for implementation of company identity, color scheme, and content.
"Once a business makes a selection from our list of web templates, we then customize the design with company colors, add the company logo, and format text for placement on each web page to make sure that your website is unique", stated Jod Kapilakan, web designer with IT Graphix. The result is a custom website that looks unique and professional for each business with affordable budget.
If a company requires more functions, such as databases and online shopping cart, IT Graphix Web Design continues to offer affordable e-commerce website design solutions.
For more information about IT Graphix's basic web design package, visit http://www.itgraphix.com.
# # #