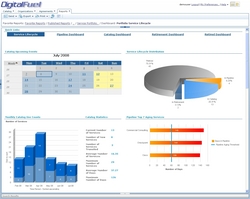 The research in this report clearly shows that service catalogs are becoming an essential means for IT and business to collaborate within an organization and align their goals
San Mateo, CA (PRWEB) September 8, 2008
Digital Fuel®, the leader in IT Service Management (ITSM) solutions, today announced that a recent report by leading analyst firm EMA, entitled 'Service Catalog 2008: Service Management Keystone, and Much More,' discusses how Digital Fuel's ServiceFlow can provide significant value to companies by aligning IT services with business goals while reducing costs. The report explains how ServiceFlow goes well beyond the limitations of tactical self-service focused catalogs to provide superior business value by giving companies a core enterprise application for managing service levels and IT financial processes.
According to the report, service catalogs serve as a foundation for business service management (BSM) and IT service management (ITSM), which are emerging as primary IT management approaches and key competitive advantages in many industries. The report says companies need not wait until they achieve a fully mature IT service management implementation or meet specific milestones before they deploy Service Catalog software like Digital Fuel's, stating, "Organizations embarking on ITIL driven or other ITSM or BSM driven initiatives can use service catalog as a starting point, rather than something that gets added at the end."
"The research in this report clearly shows that service catalogs are becoming an essential means for IT and business to collaborate within an organization and align their goals," said Paul Burns, senior analyst for EMA. "The Digital Fuel technology has a unique combination of features to enable IT service management with an ITIL v3 customer-centric focus, and can start to deliver business value soon after implementation for any company with an IT department."
The report includes a customer case study that highlights how one of the world's largest insurance companies was able to manage their customer-facing ITIL v3 processes by leveraging ServiceFlow's tight integration of service portfolio management, service level management, and service financial management processes.
The case study outlines how Digital Fuel's integrated capabilities enable the company to collect accurate and detailed data on both unit cost and usage information in the context of a service, so they can accurately provide business units with insight into performance and costs. Accordingly, the report notes, "The businesses are empowered to adjust the amount and types of services they consume in order to achieve the best return on their IT investments," indicating that in the end the company is able to reduce costs and improve services at the same time.
"The Digital Fuel example shows that its service catalog management solution delivers tangible business value to companies," Burns added. "Digital Fuel's ServiceFlow suite enables organizations to deliver greater business value than traditional catalogs by enabling both IT and its business customers to lower service costs, improve services, and ensure that each service attains what IT promised."
Digital Fuel's ServiceFlow also facilitates and accelerates service catalog deployments with out-of-the-box, pre-defined services, and the flexibility to leverage existing data and processes. Digital Fuel's Pre-defined Service Catalog solution can be delivered on-site or as a managed service and is available for free trial. To learn more, visit the Digital Fuel website at http://www.digitalfuel.com/.
About Digital Fuel:
Digital Fuel Technologies, Inc., is the leading provider of Service Catalog, Service Level Management (SLM) and Service Financial Management software solutions for IT, Communications, HR, F&A in enterprises and commercial service providers. The company's ServiceFlow business software applications manage billions in Telco, IT and other business services at companies and governments around the world such as British Telecom, Cisco, Computacenter, CSC, Cummins, Dell, General Electric, IBM, Nestle, O2, Procter & Gamble, Siemens, SITA, Sprint, Steria, Telefonica, Telus, WiPro and many others. Digital Fuel is headquartered in San Mateo, California, USA, with offices across North America and Europe. Learn more at http://www.DigitalFuel.com.
About EMA:
Founded in 1996, Enterprise Management Associates (EMA) is the leading independent industry analyst and consulting firm dedicated to the IT Management market. For more than 10 years, we have been providing our clients with objective and comprehensive insight into the real-world business value of key IT Management technologies. For more information, visit http://www.emausa.com/.
Media Contact:
Jesse Odell
LaunchSquad
+1 (415) 625-8555
fuel (at) launchsquad (dot) com
###