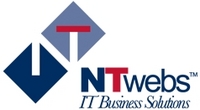 From the first meeting with Paul George, I felt the tremendous energy that he radiated when he explained his business concepts and his vision for his company, I knew I wanted to be part of his team
Boca Raton, FL (PRWEB) July 17, 2009
NTWebs, Inc, a leading IT Outsourcing Solution provider, that brings Enterprise level computing to small-medium size companies announces the addition of Joseph Thompson as IT Client Analyst. Mr. Thompson joins the team of highly skilled technology experts at NTWebs Managed IT Solutions, who have engineered a bulletproof IT Outsourced model that guarantees network performance and saves clients up to 50% on IT costs. Joseph's motivating leadership skills and technical aptitude continues to build on the success of NTWebs and will further enhance the customer experience.
In his new role as IT Client Analyst, Joseph will focus on business development strategies that allow organizations to benefit from economizing their IT departments by Outsourcing IT functions to NTWebs. He will leverage the skills of the dynamic leadership team at NTWebs: Founder and CEO Paul George has over 15 years of experience in IT and proudly earned many distinctions at Microsoft including Most Valued Person. Sales and Marketing Director Pamela George has over 20 years of sales experience and currently expanding CRM (customer relations marketing) programs. "Joseph's customer focused business philosophies are shared within NTWebs. We are certain he will be invaluable to our team as we look to expand our core business - expert IT Management," said Paul George.
Mr. Thompson previously held positions with Compaq Financial Services (now HP Finance); Florida based Champion Solutions Group an IBM Business Partner and LexisNexis. He holds several professional achievements including: President's Club award winner, Sales Manager of the Year and certified Miller Heiman sales trainer. Joseph is originally from New Jersey where he attended Rider University for Business Administration. Most recently with his wife of 11 years Ana Lucia, he founded the sales performance management consulting firm of Castano, Seguin & Thompson.
Mr. Thompson is very excited about joining the NTWeb's Team . "From the first meeting with Paul George, I felt the tremendous energy that he radiated when he explained his business concepts and his vision for his company, I knew I wanted to be part of his team". The number one mission of NTWebs is to provide clients with the most comprehensive IT support during these very chalenging economic times and to position them for tomorrow's growth http://www.ntwebs.com
About NTWebs, Inc- Founder and CEO Paul George has over 15 years of experience in IT and proudly holds many certifications at Microsoft. He has earned professional recognition as, Most Valued Person at Microsoft. As one of Microsoft's top trainers, Paul created a training video and ranked as the #1 trainer for Windows server. He has consulted and trained IT departments for companies including: American Express, FPL, Royal Caribbean Cruise Line, City of Boca Raton, City of Delray, and Bank of America. Paul has used his vast experience in IT and assembled an expert team of technicians, developers, and engineers to form NTWebs, Inc. in 2001.
###