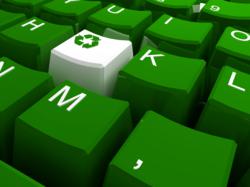 To be awarded ISO 27001 in such a short timescale is a tremendous achievement for our company.
Bolton, UK (PRWEB UK) 30 April 2013
Bolton based, IT recycling company, Concept Management Ltd, has just been awarded internationally recognised ISO 27001 certification for Information Security Management Systems in a record time of just over three weeks.
The ISO 27001 certification is an internationally recognised standard that promotes best practice throughout the world to develop an Information Security Management System (ISMS) that gives security and peace of mind to both the accredited company and to the clients of that company; the certification is the first in a group of international security standards.
Concept Management is a unique WEEE recycling company with the highest level of environmental certification that has specialist skills in reverse logistics, IT asset reclaim, hard disk drive recertification, data security and secure data destruction. The management team at Concept firmly believes that re-use is the best form of recycling and reinforcing this, their Bolton HQ has the technology and manpower to process various technical tasks within a dedicated secure department with an HDD laboratory that boasts one of the highest capacities in Europe.
Concept's Business Development Director, Mark Wilding said: "Achieving this accreditation is a great complement to our other ISO certifications which includes: ISO 14001 and ISO 9001 as well as other accreditations such as our recent recertification for Asset Disposal & Information Security Alliance (ADISA).
"Most companies can take between three and six months to achieve ISO 27001 accreditation, so for Concept to be awarded this in just over three weeks is a tremendous achievement and one that we're all extremely proud of. We've officially been recognised by QMS International, the company we used for the accreditation, as the first company they've worked with to have achieved ISO 27001 certification in such a short timescale."
Certification will vary from company to company and will very much depend on the policies the company already has in place.
The road to achieving accreditation is a three stage process. During the first stage, existing manuals are checked for compliance. This is then followed by an onsite compliance audit to confirm the company seeking accreditation is working to their manuals.
Adds Mark: "Upon inspection it was found that we were already complying with the majority of areas within our current company policies. With a small amount of additional work, we successfully completed the other areas needed to achieve certification.
"We won't rest on our laurels, we know that accreditation isn't a one-off process, but a continual improvement and demonstration of adherence to the guidelines set out in ISO 27001."
Concept's skills are borne out of maximizing return from end of life, redundant and obsolete ICT equipment and they specialise in computer disposal, secure computer disposal, WEEE recycling as well as secure data and equipment destruction. They work within many different sectors from education, small business and corporate through to Local Authorities and NHS Trusts; having acquired Information Governance (IG) Toolkit accreditation last year which is an assessment for NHS organisations to assess themselves against Department of Health Information Governance policies and standards.
In the last month Concept has successfully won a position on a framework agreement to work for the North of England NHS Commercial Procurement Collaborative (NOE CPC), which is an NHS owned national procurement organisation that delivers millions of pounds of efficiencies every year for their member Trusts.
"We were delighted to win a position on the NOE CPC framework agreement. To win this our systems were vetted and tested very thoroughly. The NOE CPC framework has a large number of suppliers from many different sectors, but to date we are the only IT recycling company that has been successful to achieve this position on the framework." Concludes Mark.