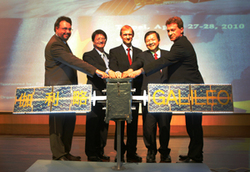 The commercial value of Galileo global navigation system to reach $36 hundred million Euro by 2020.
(PRWEB) April 30, 2010
On 1 May 2010, the European Satellite Navigation Competition (ESNC) began its seventh search for the best application ideas in its field. For a three-month period culminating at the end of July, innovators from all over the world will answer the call to devise new products and services based on satellite positioning. This area is virtually unlimited in its scope of potential application, having contributed to optimisations in a broad array of industries in recent years. These range from the more traditional – such as automotive, transport, and logistics – to more specialised domains, including high-accuracy solutions for agriculture, security, green tech, and healthcare, as well as the practically boundless field of location-based services for GPS-enabled mobile phones.
In starting the European Satellite Navigation Competition in 2004, AZO established a network that has since expanded to 21 regions worldwide with the following three new regions that joined the ESNC in 2010:

USA, organised by Inside GNSS magazine, which reaches out to an international audience of product designers, system integrators, technical managers, manufacturers, and service providers as well as GNSS policy makers.
Arab Middle East & North Africa (MENA), organised by the Arab Science & Technology Foundation (ASTF) which supports and facilitates scientific and technological innovation in the Arab world.
Aquitaine/France, organised by TOPOS Aquitaine, a non-profit organisation that fosters networking and collaborative activities to further develop regional ventures and activity in the downstream GNSS market .
The ESNC thus connects hubs of technology and company foundation that boast some of the most important players in the fields of incubation, prototype and product development, market development, and idea management for applications related to satellite navigation. Meanwhile, aerospace clusters and other regional initiatives involved in the network give entrepreneurs crucial access to potential partners and investors.
For the first time, this year's ESNC is offering a special prize that targets users who test and validate products and services in Living Labs. Currently, 212 such facilities all over the world comprise a network that is committed to user-generated open innovation, as well as providing additional support to participants in ESNC 2010 and, in particular, imparting experience from user industries.
In addition, numerous further sponsors will award their own special prizes for solutions in specific areas. The GSA, for example, is looking for promising applications for the GPS augmentation system EGNOS, while the ESA is to award its prize to a business idea that can be realized both quickly and sustainably. NAVTEQ, the world's leading provider of digital map data, is searching for innovative location-based applications for mobile phones and other portable navigation devices, and the ESNC title sponsor, T-Systems, will award the GMES Masters prize to applications that combine dynamic earth observation data with satellite navigation. The German Aerospace Center (DLR) is sponsoring a special prize for next generation navigation application.
The idea database of this year's European Satellite Navigation Competition is accessible on 1 May at http://www.galileo-masters.eu. The site already offers all of the information available on the competition, partner regions, and special prizes.
Facts and data on the European Satellite Navigation Competition (ESNC)
The European Satellite Navigation Competition is an international innovation contest that awards the best ideas for applications in satellite navigation. The competition has been organised by Anwendungszentrum GmbH Oberpfaffenhofen since 2004 and is oriented toward companies, entrepreneurs, research institutes, universities, and private individuals. Having begun with three partner regions, this year's ESNC will be held in 21 high-tech regions all over the world: Baden-Württemberg, Bavaria, Hesse, Lower Saxony, North Rhine-Westphalia, Nice / Sophia Antipolis, Prague, South Holland, Madrid, Lombardy, Australia, Taiwan, Great Britain, Øresund, Gipuzkoa, Valencia, Switzerland, and Israel as well as newcomers Aquitaine, USA and the Arab Middle East & North Africa (MENA).
The ESNC is intended to further strengthen international collaboration among these regions, particular with regard to the development of applications and services made possible by the European satellite navigation system Galileo. The competition is held under the patronage of the Bavarian State Ministry of Economic Affairs, Infrastructure, Transport and Technology and is supported by the European BIC Network (EBN). The main winners of the ESNC – the GALILEO Master, the special prize winners, and the 21 regional winners – will be recognised at a state reception to be held at the Munich Residenz on October 18, 2010. For more information, please visit: http://www.galileo-masters.eu.
Facts and data on the Global Galileo Industry Alliance
GGIA is a global organization to stimulate and promote new available GNSS infrastructures to its members and to the international media. For the outreach annual conferences, yearbooks, tradeshows, and business matching will be organized. The network consist of leading companies in the field of telecommunication, electronics, computing, automotive, networking, aerospace industry and leading research companies. Taiwan is the first GGIA partner region and therefore one of the most important promoters and users of this new organization. With Taiwan as a core member, the goal to establish an innovation highway between Europe and Asia is no longer a vision.
GGIA will organize and support two major conferences in 2010. The first supported GGIA conference will take part inline with the Galileo Executive Summit. The second GGIA conference will be organized inline with the famous Galileo Masters Award Ceremony 18/19th of October in Munich.
To promote communications between Taiwan and EU Satellite Navigation industries, for the first time, ITRI (Industrial Technology Research Institute) cooperated with EU (Europe Union) to host the 2010 Galileo Executive Forum. The Forum invited Chunghwa Telecom, Quanta Computer, European Commission, Septentrio, the leading Geographic Information Systems (GIS) data company in the world- Navteq to share the progress and development of the Global Galileo Satellite system and the future prospective business opportunities it will bring to Taiwan's upper, middle, and lower chains and EC Satellite Industries.
Mr. Wen-Chih Chan, Consultant of Technology Department of Industrial Technology, Ministry of Economic Affairs (MOEA) stated that in 2009 the Global GPS output has surpassed 1 billion NTD and Taiwan's GPS hardware output has reached over 4, 015 million units, making for about 18.6% of the world's market share. In the past five years Taiwan has been the lead in world for its satellite navigation hardware equipment output. The Ministry of Economic Affairs is proactively searching for the next growth point for Taiwan's satellite industry. Mr. Chan encouraged Taiwan manufacturers to put emphasis in developing niche products such as Personal Navigation Devices and etc. In the future when the Galileo system would be fully established it would be expected to provide multiple value-added applications and create new industries and more business opportunities to Taiwan.
Chih-Kung Lee, Executive Vice President of ITRI pointed out, in the past Taiwan's satellite navigation industries mainly focuses on the U.S. GPS system. Taiwan manufacturers should utilize its strong R&D background and productivity to prepare to be more involved with EU's Galileo program. To this end, after participating in GGIA in April 2009, ITRI had been actively promoting the visibility of Taiwan suppliers in Europe; and with the assistance of the overseas office, screening and matching EU enterprises with Taiwan satellite industries for business cooperation for the related applications of Project Galileo.
Deputy Head of Unit, EU Satellite navigation programmes, Michel Bosco claimed, the Galileo satellite system would be the world's most advanced satellite navigation system and also the first global positioning service under the operation of private sectors. In addition to providing independent navigational positioning service, Galileo would also be complimentary to U.S. GPS and Russian GLONASS satellite navigation systems. Galileo's high precise measuring functions would not only advance satellite-related industries but also created a new industrial revolution through the related applications and brought a new height to the aerospace industry. Bosco predicted the commercial value of Galileo global navigation system to reach $36 hundred million Euro by 2020.
Contact Information
Kristie Lee
Office of Marketing Communication
Industrial Technology Research Institute (ITRI)
Tel: (886)3-5919392 E-mail: kristielee(at)itri(dot)org(dot)tw
Please visit allproducts.com Press Room for further information.
# # #