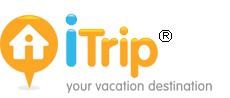 With promotions like this, we can give back to the community and make sure everyone knows about the service we provide.
NASHVILLE, TN (PRWEB) August 01, 2012
As part of its ongoing promotion series, iTrip has recently announced the winner of its latest contest! iTrip is a VRBO company that offers some of the most beautiful luxury vacation properties in destinations in the continental United States, Nicaragua, and Costa Rica. Its impressive list of properties is always growing, and with plans to pursue vacation homes in Hawaii and other vacation hotspots around the world, it's sure to be the next big thing in vacation planning!
iTrip is not only interested in helping travelers to book vacation homes. Each property owner is proud and knowledgeable about the area, and iTrip's blog offers unique insight and helpful hints for those who plan to stay in one of the lavish vacation rentals.
As the lucky winner of iTrip's latest Facebook contest, Judi Coffman and her family will enjoy a week-long stay in a 3-bedroom, 3-bathroom town home vacation rental at the Paradise Palms resort in lovely Orlando! The rental boasts Pirates of the Caribbean and Harry Potter themed rooms – fantastic for the young kids in Judi's family! – along with a beautifully furnished master bedroom and an absolutely incredible kitchen. It's in close proximity to all of the exciting attractions the Orlando area has to offer, and the resort itself offers access to a fantastic pool for some splishing and splashing after a day of fun in the sun!
In late May, iTrip offered a similar week-long stay in a beautiful Panama City Beach, Florida vacation rental at the Shores of Panama resort; winner Kristi Dunn noted that she and her family "decided we love this beach life of no worries, no problems!..." and wanted to extend the stay indefinitely.
Now it's Judi's turn to enjoy a free week in a vacation rental! The week-long trip to the Paradise Palms resort will be from August 4th 2012 through August 11th 2012, so the lucky winners will end the summer with a perfect trip before heading back to school and work!
The contest ran from May 25th 2012 to July 14th 2012 – contestants entered using the badge on iTrip's Facebook page. As part of the entry, contestants are given the option to sign up for iTrip's newsletter, which provides special offers and helpful tips for travelers heading to any of their illustrious destinations.
In addition, Being heavily vested in technology with the use of social media and online booking, iTrip announced a free iPad giveaway for its latest promotion. The contest will run for four weeks – from July 23rd, 2012 to August 17th, 2012. To enter, contestants must send a Facebook friend request to the iTrip page. Once the friend request has been sent, contestants must send a message to iTrip noting which of their vacation destinations is their favorite and give reasons why. At the end of each week – with a fun alliterative name, Finalist Friday - iTrip will choose its best three messages to post on its wall. Friends and fans of the iTrip page will then be asked to vote for their favorite entries by clicking the "Like" button on the message they think should win. The contest enables iTrip to promote an exciting giveaway while broadcasting the incredible deals they offer.
"We want to get the word out about iTrip. We set ourselves apart because we really strive provide incredibly luxurious vacation rentals in hundreds of locations to our community, all at a price that is more affordable than most hotels," says Steve Presley, one of the founders of iTrip. "With promotions like this, we can give back to the community and make sure everyone knows about the service we provide!"
This iPad giveaway is the third in a series of promotions iTrip has offered to its community, but it's the first of this type. Previous contests have been run through the iTrip Facebook page using the wildfire sweepstakes badge.
Learn more about iTrip by visiting their webpage.